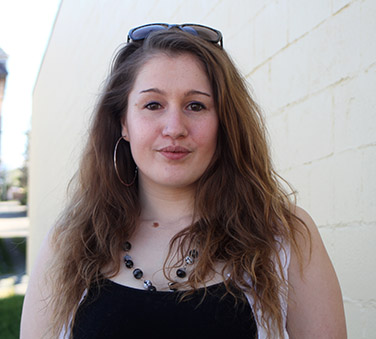 Kate Walton moved to town last November but has had no trouble meeting new people and exploring new places.
When Kate Walton moved to Port Alberni last November, the change was not just a new town that she was about to call home. She moved in with her boyfriend for the first time, had to find a job and took her driver's license exam. After only two weeks of unpacking her suitcases, however, everything fell into place, and for Kate, the move seems to be one of those decisions that was "meant to be".
As a child, Kate moved around a lot. She was born in Vancouver, but when her mother remarried, the family moved to Seattle. She was active in gymnastics, but mainly enjoyed playing outdoors and teaching herself how to dance. Kate stayed in the U.S. from Grades 5 through 11 but was happy to return to Canada.
She attended St. Michaels University School in Grade 10 because of her late birthday – December 31. She said she did well at the private school, even with a public school background, and her experiences until then made her grow up fast. Kate's two youngest brothers are 10 and 11 years younger than her and she has another brother five years younger, so she developed a slight mother figure role.
"My step-father was a mean person so I became protective of my family," she said. "I became a bit of a mama-bear. I made it through that with my head on my shoulders".
Right after high school, Kate attended Thompson Rivers University in Kamloops, but said she wished she had taken time off first.
"I wasn't ready, but I did it to make my family happy and not really for myself," she said. "I am an advocate of taking time off to think about it. If you want to travel or work first, do it."
After the first year, Kate started working at Superstore instead and in 2010, returned to Victoria. She enrolled at Camosun for the beginning of 2011, and while working at the same time, completed a diploma program in Marketing.
"Originally I was going to go for a Psychology major at TRU but I love marketing, so in my second year I had to decide on marketing or management," she said. "My mom said I was always bossy growing up but I call it delegating. So I chose marketing and glad I did."
Now Kate intends to study online for her degree in Business Administration and Marketing.
The snowball of changes started last summer when Kate made another life change. Her boyfriend, Dan Fredlund moved to Port Alberni for a career opportunity, so Kate originally planned to follow this summer. That timeline stepped back to January of this year, then to just before Christmas, but it was November 15 that Kate became a resident.
Although her friends back home didn't think she would find opportunities, the opposite happened. And they happened quickly. A week later she hit the pavement in search of work and applied for a receptionist position at INEO Employment Services. Rather than that job, she was quickly offered one that was not listed and accepted a marketing position for the company, as well as for Smokin' Mad Mikes.
Before long, a similar situation arose when she met the Chamber of Commerce's executive director, Bill Collette, and in turn, McLean Mill's manager, Neil Malbon.
"I got a call in January from Neil who had first approached (Terry Deakin, INEO's owner/operator) to see if I could help with the marketing and promotions for the mill," Kate said. "This one, too, was still not a fully established position. I got two jobs out of thin air so I am very grateful."
Excited for the opportunities, as well as spending her first summer in Port Alberni, Kate said she looks forward to seeking new adventures, including evenings spent at the lake, getting a puppy and learning to drive Dan's jeep.
"I want to keep growing my experiences and finish my degree," she added.