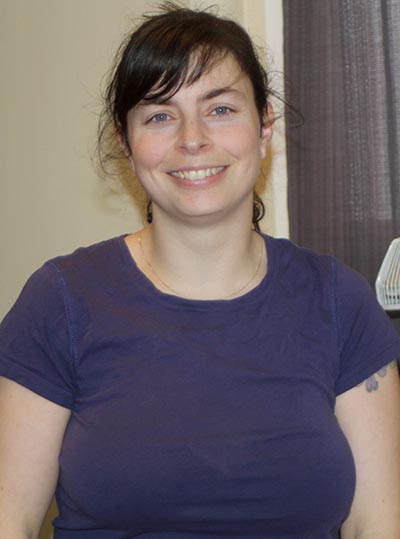 Janette Cormier and Matt Kupnicki look forward to seeing new and returning clients at the Port Alberni Community Acupuncture clinic every Tuesday.
January 20, 2017 - 12:43pm
Acupuncture will soon be made more widely available in Port Alberni thanks to the recent initiative of two local practitioners.
Janette Cormier and Matt Kupnicki joined together to launch the Port Alberni Community Acupuncture clinic and will be opening the doors to the public this Tuesday. Their goal is to make acupuncture more accessible and affordable for all who want to use this form of treatment.
When Janette started her practice as a new resident about five years ago, she started working from her home. She and her husband, Lonnie Olsen, purchased a heritage home and it was conducive in the short-term for her to meet new clients and and provide individual, customized plans for acupuncture, herbal medicine and massage therapy.
Since then, the couple has had two children and Janette has outgrown her space. Almost two years ago she discovered a small studio behind the Golden Dragon Restaurant and opened her own clinic. Although she enjoyed working from home, Janette said she finds more people have an easier time locating her and now has distinct areas for her home and working life.
Janette touts the benefits of acupuncture, something she used herself to treat her own pain before working on others.
It is more widely accepted now in mainstream medicine and in the public in general," she said. "The number one reason people use it is for pain. That is what is it most known for."
Along with pain management, especially among people living with fibromyalgia and other chronic ailments, she said it is also beneficial for treating issues with pregnancy and infertility, gynecological issues, digestive disorders, chronic fatigue, eye disease, Lyme Disease, and the side effects of chemotherapy.
"People don't really realize it, but acupuncture is very diverse in what it can help with," Janette said.
She also adds in herbal treatments when and if needed.
That is why she and Matt are working together to open a community clinic. It is open to the public, but they hope it will also help others who might not have access to extensive medical coverage or are on fixed income.
"I have always wanted to open a community clinic but never had the proper space," Janette said. "Matt did (at the Integrated Health Network) and the timing was right."
Every Tuesday from 10am to 1pm, treatments will be offered in a group setting. The two will see patients every fifteen minutes and while the needles are in place, the patients can rest there for up to an hour.
Payment will be on a sliding scale arrangement between $20 and $40, depending on what a patient can afford at the time.
"It will be great for anyone, but especially for people needing a high frequency of treatments," Janette said. "They will receive high-quality care. We have both been practicing for years and have a lot of experience."
She said the clinic is expected to be sustainable for both the community and herself and Matt as practitioners and is a perfect opportunity for anyone wanting to try acupuncture for the first time.
The clinic opens on Tuesday, January 24 at 10am at 4711 Elizabeth Street. Janette advises coming early to fill out paperwork for anyone new. You can also book online at www.paacupuncture.org.