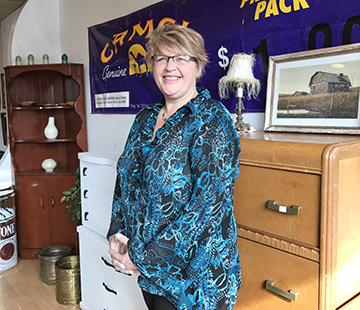 Lisa Nogier has found a new home and opened her thriving vintage furniture business in Port Alberni.
Port Alberni has another newcomer in the Valley who arrived to set up her business and enjoy the close-knit community lifestyle. Lisa Nogier arrived with her husband two months ago and is already experience success at her vintage furniture shop.
"It has been absolutely booming," Lisa said.
Lisa moved her store, Island Collectibles, from Nanaimo and said the market has been better in Port Alberni.
She was born and raised in Nanaimo and was familiar with Port Alberni. After graduating from NDSS, Lisa was a hairdresser for 12 years. However, growing up on acreage with horses for the majority of her life, she decided to use her passion of the animals to her advantage. She became a children's entertainer and brought the ponies and a bouncy castle to birthday parties as Cookie the Clown.
"It evolved from friends asking me for riding lessons for their kids to doing My Little Pony packages where I had lessons at my home and taught the care and maintenance of ponies," Lisa said.
When she moved to the Interior for her husband's job at the mill, she got a stallion and continued the parties. They returned to Nanaimo where she opened up Island Collectibles.
"It started because I was always going to auctions," Lisa said. "At first it was just for ourselves, but it evolved because I was getting too much furniture. I started selling it out of my home."
She filled the shop with quality antique items that last and continues to hold true to those high standards.
"These pieces have lived for 50 to 100 years and will continue to for another 50 to 100," she said. "It's nice to see the trend of the younger generation appreciating good quality."
Lisa said since opening, locals have been coming through the doors with antique furniture to sell, which is one way she is able to keep her prices low.
"I don't have to go to auctions in Vancouver anymore," she said. "It's been working out better than I ever imagined. The people are so friendly here and are good at networking because they are telling their friends."
Lisa was attracted to Port Alberni because of the cost of living and the cost of running a business, where rent of commercial buildings is typically lower than Nanaimo.  When she found the location at the Gertrude Street plaza near Mountain View Bakery, it was nearly move-in ready. All she had to do was some painting before moving in truckloads of merchandise.
Not only does she fill her storefront with vintage furniture, she has her own favourite pieces at home.
"I have a one-hundred-year-old barn wood table that a friend made for me," she said. "It has a glass top to protect it from the wood display underneath."
What she likes most about antiques is there history and the mystery behind it.
"I always wonder what they have seen and if they could tell a story, what would it be?" she said. "You see nicks and bumps and wondered what happened."
She also often finds little treasures tucked away in drawers and cupboards.
Lisa welcomes everyone to check out her store at 4545 Gertrude Street to find such treasures and to meet the face behind Island Collectibles.