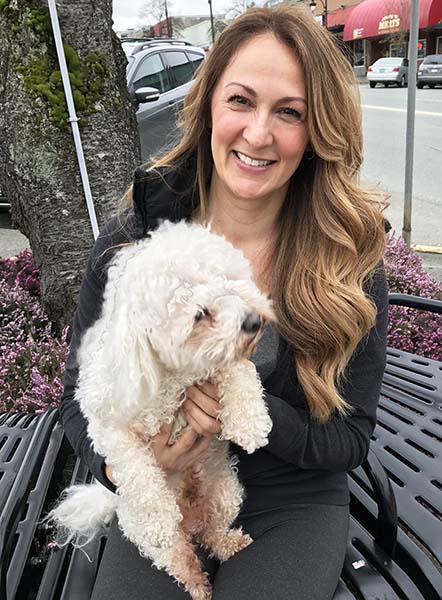 Looking back on her life, Nene Kraneveldt can see how her path has led to the successful self-employment she enjoys today.
Born in Germany, she is the daughter of a former field engineer with the military and as such, the family relocated often. Nene, along with her parents and brother, left Germany when she was three years old when he was posted in Oromocto, New Brunswick. Initially, they lived on the base in a private community. Everyone was in a similar situation so she found it easy to make new friends. Although the family was there for only three years, it is from that stay that her father was most likely exposed to Agent Orange. It was years later, in 1996, that he passed away of brain cancer.
In 1977, the family moved to the Courtenay/Comox area and have been on Vancouver Island ever since. Nene's mother was a civilian at the base and the couple worked together. At the same time, Nene attended school at Puntledge Park Elementary. When she reached junior high, the family was living in Victoria and by the time she graduated, had attended seven different schools. During these years, Nene was active in Student Council and a number of different sports. She was fortunate to experience an early college preparation program.
"In high school, we were able to pick a career path, so I chose the Early Childhood Education program," Nene said. "I have always loved kids and thought I wanted to do that. I didn't want to go to college but my mom sat me down with different college programs and had me pick through them like I did with the Christmas Wish Book."
By then, the family moved to Port Alberni for her father's retirement and Nene completed the Early Childhood Education program at North Island College. She had the opportunity to work with children and youth for a few years, starting with Snow White Preschool and then the after-school and summer programs at Parks and Recreation.
That experience turned into a job with the School District 70 working with at-risk youth, followed by similar employment at the Women's Center, where she counseled children who witnessed abuse.
"It was hard work," Nene said. "I created safety plans to prepare them to return to these vulnerable situations. I am university-educated but these lessons learned are ones you will never find in textbooks."
She said the resiliency and strength the youth displayed was inspiring.
Nene then went to the Nuu Chah Nulth Tribal Council where she worked on social policies and sat on a provincial body and served as vice-president of the First Nation Social Development Society.
That led to a position as Director of Operations and Strategic Planning at the Tseshaht First Nation during the transition from the former residential school to the new administration building.
All of these life experiences culminated in the decision to dedicate her time to self-employment. Lending her skills nation-wide, Nene focuses on policy development in two key areas: operational and human resources. For the past six to seven years, she has concentrated a significant amount of time to financial literacy by publishing a First Nation Financial Fitness handbook to be used for training. She also created and delivered curriculum on financial literacy and culture and wellness in the workplace, specifically for the First Nation non-profit sector.
It was by taking a risk that Nene decided self-employment was the right fit for her.
"Someone asked if I would be able to write a curriculum," Nene said. "I wasn't sure I could, but he had faith and confidence that I could. I got the contract and took a chance."
She launched two branches of her business, including Imagination FX and Create Our Story.
Lately, she has had the opportunity to focus closer to home and is wrapping up a decision process for the future of the Alberni Valley Museum.
"I conducted engagement work, which was born out of the recognition that the City had to find an alternate delivery model for the museum," Nene said. "I engaged with stakeholders and then the broader community. I summarized the feedback and brought it to Council on Monday."
Council was presented with five main recommendations. The one receiving the most discussion is the idea of a tripartite between the City, Tseshaht First Nation, and Hupacasath First Nation.
"The goal of having a joint ownership is to help alleviate the financial cost to the City," Nene said. "We had meaningful engagements and I think that is because people felt like they had their voices heard."
Nene expects a decision to be made this summer and enjoyed the chance to work within the community.
"I set the intention to work closer to home and this unfolded naturally," she said. "It is nice to stay in the Valley. I love living at Sproat Lake and my family.