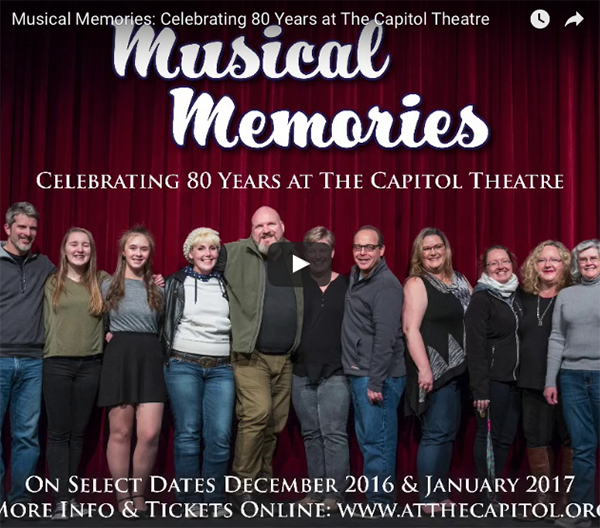 Members of Portal Players Dramatic Society are inviting the community out to enjoy the entertainment of a true homegrown production. Musical Memories is currently running at the Capitol Theatre and promises to educate and entertain the audience on the history of the arts in Port Alberni.
It all came about in conjunction with some milestone anniversaries in 2017.
"We recognized that it was the 80th anniversary of the Capitol Theatre, and we all love this theater," said Brent Ronning. "It is our home. It is a point of pride for us as a volunteer-driven theater."
As part of the Rotary Arts District, members of Portal Players took on the production as a project to give back and the coordinating mural on the building was recognized on the opening day last December 16. So far each show has received a standing ovation.
The cast of Musical Memories consists of all the actors who performed in one of last year's Portal Players' musical productions.
"It was easy to cast," Brent said. "We asked everyone involved in "A Closer Walk With Patsy Cline". Everyone was on board right away, with the addition of Kelly Maher. We had some talented young dancers step in to add more visuals, so there are a lot of projections and a lot of lights, music, singing, and dancing. It shows the heart of what we do at the Capitol all the time."
Brent said it was a perfect opportunity to coordinate with the year Canada celebrates 150 years.
"It is a wonderful time for a homegrown show with local historical features," he said. "The Capitol is a highlight of the community. It is a wonderful jewel in the arts district and there are things about it that many people don't even know."
Peter Wienold took on the role of collecting the historical aspects. He worked with the museum, the Alberni Valley Historical Society and dug into the archives. Together they took eighty years of history in the Alberni Valley and melded it together with eighty years of the Capitol Theatre.
"We added music and dance to give the audience a journey from the '30s to the present," Brent said.
Although it is a musical, the audience is sure to walk away with a bit more knowledge.
"It is a love letter to our community," Brent said. "It is a look at us, at what we do, what we have done, and what we can do."
There are only two more weekends to check it out before the Portal Players' next production, The Foreigner, in February and March. Tickets are available here.