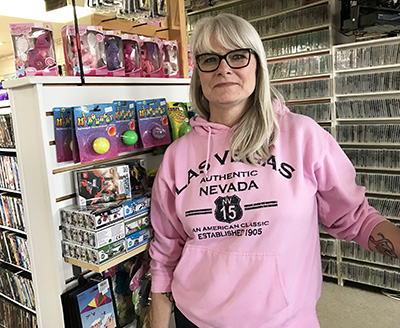 Maryann Rumney has been steadily increasing product selection at Aaron's Movie Mania.
Sixteen years ago, Maryann Rumney and her husband Ross opened up a little movie store on the corner of China Creek Road and Tenth Avenue. The family-run business has seen changes over the years but has remained committed to providing the same personalized service. Their loyal customers have experienced this and to keep them coming back for more, the Rumneys have recently expanded the store's retail section.
When Aaron's Movie Mania, named after their son, opened in August 2001, Ross, Maryann and their niece, Kim, all worked there. As well as running the shop, Maryann worked another job up until seven years ago. Her focus now is on bringing more to meet the needs are area residents.
"When we opened we only had one rack of chips and a cooler of pop," Maryann said. "We grew to include two walls of candy and toys, but with Zellers closing, I noticed there were a few things not readily available on this side of town."
A recent addition started with a small wall of household items and accessories, but that quickly grew as well. Now it extends to where the long-standing Scrap Shak scrapbooking supplies are and contains everything but the kitchen sink.
The shop now caters to everyone's needs. There are stationary supplies for the late nights when students have forgotten about school projects, night lights and rat traps, shelving and shower caddies for the bathroom, mops and pails, and work gloves and hardware.
"I had someone come in needing a can opener and asked if we happen to have one," Maryann said. "I said, 'Actually, yes, we do!'"
She said she tries to come up with items to help people who are working on projects on a Sunday afternoon and need something in a pinch.
"Another person needed plumber's tape and they came in because they didn't want to go to the other side of town," she said.
The expansion started with the success of shelves full of bath bombs which the store started selling before Christmas.
With all of the items, it is important to note that the store all started with VHS rentals and movies are still the store's specialty.
"Back then, VHS were really expensive," Maryann said. "One could cost up to $120 and we rented it for $4.00 for one night. We had a one-dollar section and that hasn't changed. New ones go in there every week. Now we have a total of more than 9,000 movies on DVD and Blu- ray."
Older DVD's are only $1.00 per week and Blu-rays are $2.00, while new releases go for $3.25 and $3.50 per day, respectively. There is also a section of 3D, Japanese anime, and television series.
For the gamers, the collection consists of Xbox, Xbox 360, PS3, PS4, and Wii.
Over the years, Maryann has helped countless charities and fundraisers and typically has a collection of empty pop cans waiting to be picked up by children on bottle drives. She has supported the PAGO Grannies with a coin jar and within about 10 years, raised $700.
Not only that, the community has supported the store. When her resident aging cat, Shadow, started having health problems recently, customers raised $590 to help with vet bills. Shadow had heart and lung problems and after a few procedures to drain his lungs, Maryann made the difficult decision to end his suffering. His companion, Fender, the resident cat of six years, is now the one customers greet.
"He had a good life and it is amazing how many people knew him," Maryann said. "I can tell Fender misses him. He is very restless."
One of the things Maryann has noticed is how long the same customers have been coming in, but also a resurgence of the younger crowd. She hopes that with this new diversification of products, the steady stream will continue.
The staff now includes Tanya, Maggie, and Kaitlyn, as well as Aaron on the occasional Friday. Movie Mania is open Sunday to Thursday from 11am to 9pm and Friday and Saturday from 11am to 10pm.
Check out the facebook page to stay up-to-date.