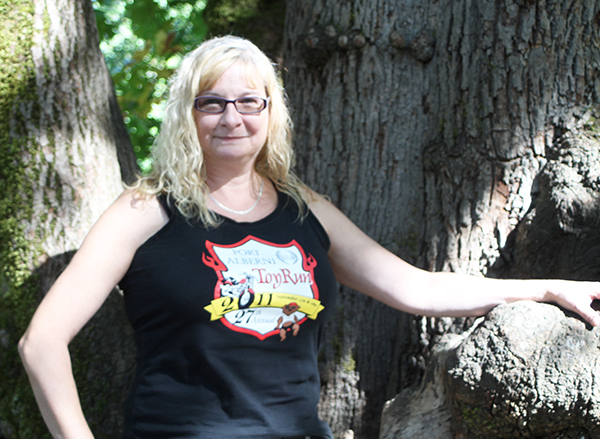 Gidget McLeod is looking forward to her first ride as a passenger in this year's Toy Run on Saturday.
September 13, 2016 - 8:22am
Gidget McLeod leads an active life as a volunteer and has been motivated for many years to give back to the community. Volunteering is something that adds to her social life and provides a sense of accomplishment. Gidget's current commitment is as a member of the Port Alberni Toy Run and it will all culminate with hundreds of motorcycles roaring down the highway this Saturday for the 32nd annual event.
Gidget started out volunteering with parking a few years ago at Little Qualicum Falls, the meeting place for all of the riders. The environment there was inspiring and kept her coming back.
"It was exhilarating and absolutely amazing," Gidget said. "It blew my mind. I couldn't believe the energy, power and excitement."
At the time, Gidget knew some Toy Run members, and shortly after, Todd Graham, for whom she was volunteering, nominated her to become a new member.
"It felt good to be nominated," she said. "I was looking to join and saw the worth in the cause they do. It is for the kids and that's what really got to me."
Gidget's role as Secretary has her involved in a lot of the behind-the-scenes work with communications and record-keeping, but during the two-day event, she is out front and center running the four bars. As a bartender for many years and trained in Joe the Bartender and Extreme Bartender, volunteering for the position was a natural. This year, for the first time, she will also take part in the run, riding on the back of Mik Mann's bike.
"I will have everything set up and have people running the bar for me, but after the Run, I'll hop right behind the bar and make sure everything is running smooth," she said.
Gidget said she is introverted, but working with people helps get her out of her shell.
"I'm a funny kind of duck," she said. "I'm an introvert but want to be an extrovert. I grew up in Port Alberni so I know a lot of people and (volunteering) adds to the social aspect. It gets me out of my shell."
Gidget said for her the best part of the Toy Run is seeing the results. A few weeks before Christmas, members deliver all the donated toys around the Valley.
"That is when you'll see me cry," she said. "It really gets you in your heart when you see everyone so thankful. We brought fishing rods to the Friendship Centre one year and they were so stoked. You feel the warmth knowing you can make a difference."
She said the generousity of all the motorcyclists is incredible after seeing the bleachers at Glenwood fill so quickly with toys.
"It is just a happy, safe event and the majority are so happy to be there for the cause," she said. "People come from all over and it is everybody. It's not just your blue collar worker riding, there are lawyers, police, and doctors."
As an avid mountain biker and extreme sports enthusiast, Gidget hopes to soon get her own motorcycle and ride in the Toy Run on her own.
"It all fits into the controlled crazy, which I love," she said.
Like all major events in Port Alberni, the Toy Run takes a number of volunteers. The main help organizers could use this week is set up. Anyone interested in lending a hand can drop by Glenwood Center on Thursday and Friday and will likely be found a job to do. Take down will be Monday and fresh energy would be appreciated.
Be sure to get your front row seat as the motorcycles zoom into town on Saturday. Stay up to date by following the Port Alberni Toy Run Facebook page.