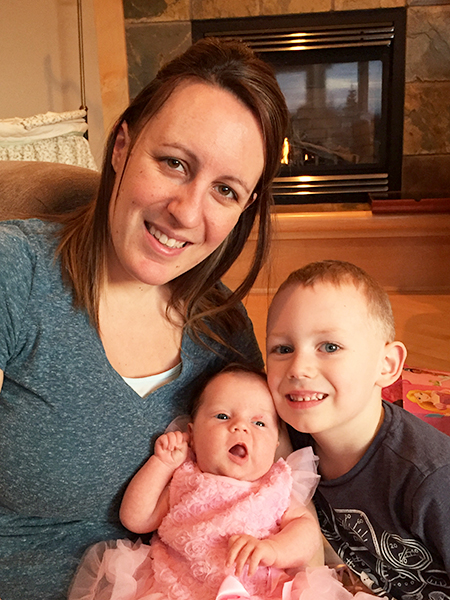 As a mom of two young children, Megan enjoys the flexibility the Welcome Wagon provides her.
About one hundred newcomers received a basket of gifts and discounts over the past year, according to Port Alberni's Welcome Wagon representative, Megan Warrender. Megan is celebrating one year in the business by hosting an Open House at her new location at the Alberni Valley Chamber of Commerce Visitor Centre.
Born and raised in Port Alberni, Megan knows all about the community and it is something she is excited to promote. Raised an only child, she said she lived a fairly quiet life but never had a problem talking. She left town only briefly after graduating from ADSS in 2006 to spend one year in Nanaimo.
Megan returned home, and in 2009, married fellow Port Alberni resident, Cameron Warrender. She was working in sales at Dennis Johnson GM until the couple had their first child, a son, in 2012. She remained at home to raise him and gradually transitioned to working part-time for her mother, Cheryl MacLean, with Sun Life Financial.
She then saw a need in town for Welcome Wagon, a service that has not been available locally for at least ten years. She wanted to provide new residents with everything they need to know about Port Alberni, including local businesses, recreation opportunities, and sights to check out.
"I saw a missing piece for people moving into town," Megan said. "Being a small community, people didn't know where to start, so I took the plunge."
It was a lot of leg work initially, but through her connections and visiting local businesses, she was able to acquire about 30 sponsors who all contribute a gift and coupon or certificate for the basket.
"I love connecting people and businesses, which is why I love the concept of Welcome Wagon," she said. "Not only am I able to connect people to the community, but I am able to connect with business owners."
It is also a good fit for her lifestyle. The couple's daughter was born in January of this year, and as a family person, Megan is able to work around a busy schedule.
"Working from home is fantastic," she said. "Family is my first priority and I can fit work in around that. I love what I do so it doesn't feel like work to me."
At the same time, life with two kids at home required her to look for a location from which she could focus on her job. She found that at an office in the Visitor Centre, where she can be found once a week.
"My daughter is my best sidekick," Megan said. "She comes everywhere with me, but running around everywhere with a two-and-a-half-month-year-old baby is not practical at this point. I realized I needed scheduled focus time to work."
She said the reaction from newcomers has been a win-win situation.
"They are all very appreciative, especially with how much information is in the baskets and how many businesses support it," she said. "They come here overwhelmed and don't know where to start."
Megan will be available by appointment and is easy to connect with through her Facebook page here.
She invites all of those recent newcomers and anyone who wants to connect with community members to meet her at the launch of her office. The Open House takes place this Friday, March 31 from noon to 2pm at 2533 Port Alberni Highway.