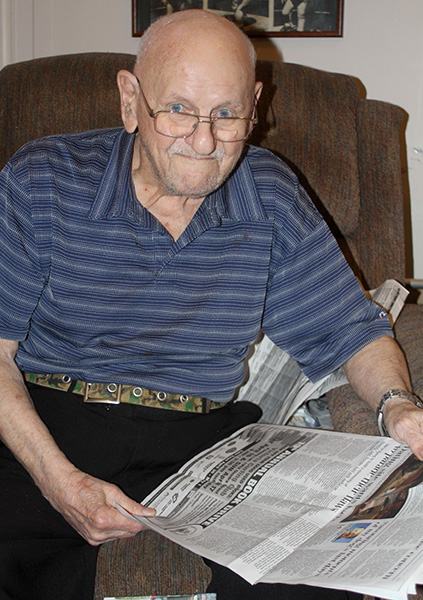 Knox Coupland relaxes in his room at Fir Park Village with a newspaper to keep up with current events.
Not many people can add meeting Elvis Presley to their list of life stories. At 87 years young, Knox Coupland has led a full life with Elvis and other celebrity encounters as some of the highlights. Always on the go with a busy career in sales and marketing, as well as volunteer commitments, Knox is now enjoying a slower pace at his home at Fir Park Village.
Born and raised in Winnipeg, Knox travelled throughout Canada and lived in Montreal for a stint. The majority of his career revolved around his people skills. He landed a job with RCA Records, where he started out in sales and worked his way up the ladder to become the company's national marketing director. A press conference was held for Elvis when he was in Montreal for a concert and it was there that Knox met the music icon.
"He was a very nice young man," Knox said. "I remember his skin was absolutely flawless. There were no marks on it, he had such clear skin."
As a fan from Elvis' early days, Knox followed his career's ups and downs.
"After he sang "Love Me Tender", that changed a lot of people's minds about him," he said. "I remember my mom said, 'He can actually sing!'". 
Knox said he spent some time talking to him about the business and as a young musician, said he was eager, anxious and working hard.
"That changed, of course," he said. "I feel for the artists. So many of them don't have lives of their own and that's what gets to them. One that didn't was Harry Belafonte."
Knox got to know Belafonte after he moved to Vancouver with RCA Records. After picking him up at the airport, Knox brought him to a rehearsal with what he thought would be the local band opening for him.
"Halfway through he found out that half the musicians that were going to play the date were just fill-ins," Knox said. "He was mad and was going to cancel the show but said he didn't need them anyway and agreed to put on the show. I thanked him for that. It went well and was a big hit."
Another RCA artist Knox met in Vancouver was the famous trumpeter, Al Hirt.
"We were talking about how to introduce him on stage and it struck me that getting him into a kid's toy car would be a big hit," Knox said. "He was into it and that go big laughs."
Subsequently, Hirt invited Knox to accompany him to New Orleans to visit a handful of jazz venues.
Later, Knox's career would lead him to Port Alberni. He was working for a company that had a location in Terrace that wasn't doing very well. Knox successfully solved the problems and immediately looked for a way out because he didn't like it there.
"I called my boss and he said the only thing he had was Port Alberni," he said. "I told myself that it's closer to Vancouver if I wanted to bail out, so that's what I did."
He stuck with it and remained in Port Alberni since arriving in 1980. It was the people, golf and opportunities that kept him here. His career continued in sales as an advertising representative for the Alberni Valley Times and Nanaimo Daily News. Knox joined the Chamber of Commerce and eventually became president during the construction and opening of the new visitor's centre. As an avid golfer, he was involved with the Alberni Golf Club and took on the green's expansion from a nine-hole to an eighteen-hole course.
In his lifetime, one of his greatest accomplishments includes hitting a hole-in-one five times. The first time took place on the second hole at the Alberni Golf Club.
"I didn't think it was in the hole," he said. "It looked like it was on the edge, but on our way up, it went in."
The fifth time was on the same hole and just went right in.
"Every time felt exhilarating because it's a rarity," Knox said. "Lots of people play golf all their lives and never get one."
Although he does not hit the course these days, Knox still enjoys keeping up with the happenings in the golf world, reading the newspaper and doing crossword puzzles at Fir Park Village.
"It's alright here," he said. "They all treat me pretty good."