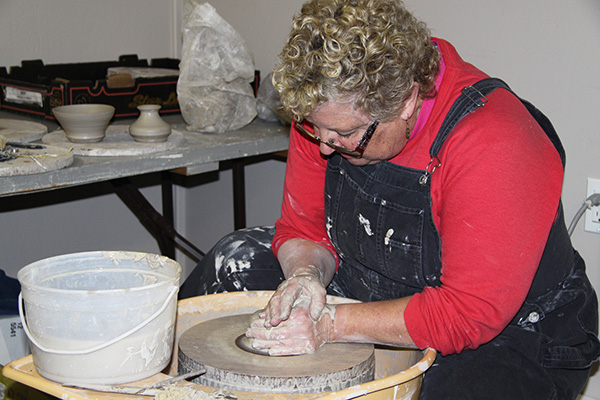 Potter Yolande Fournier gets set for this weekend's Christmas Market at McLean Mill.
November 27, 2015 - 7:02am
If you have admired or purchased any of the evolving pieces of pottery from the McLean Mill Christmas Market over the past two decades, it may have been made from the hands of Yolande Fournier. She has been a vendor there since day one. 
Yolande was born in Vancouver and raised for the first eight years of her life in the small mill town of Wood Fiber. Originally the only way in and out of the community was by boat, which happened to be the sister ship of the Lady Rose. 
When she eventually planted roots in Port Alberni, Yolande was reminiscent of her childhood on the boat. 
"It was deja vu, especially the first time I went on the Lady Rose as an adult," she said. 
The town of Wood Fiber, including the residents' homes, was company-owned by the mill, where her father worked.
"Workers from the mill would paint the house and an electrician would come if a light bulb needed to be changed," Yolande said. 
Her father was from New Brunswick, but when the Japanese workers were being interned, many French Canadian workers were being recruited to British Columbia. He then joined the army from New Brunswick and upon return, was guaranteed a job at the mill. Rather than being demobilized on the east coast, where he was from, he was able to be let off in Vancouver. 
Yolande's mother was living in Montreal and working as a welder in a shipyard. Her father saved enough money to bring her over and the two married in 1947. 
Yolande grew up the eldest of three. She took on somewhat of a mother role, taking care of her brother, who was 12 years younger, changing diapers and feeding him. As a result, she was always occupied with babysitting jobs as a youth. 
Yolande grew up educated in Catholic schools, the first being a small convent housing kindergarten to Grade 12 in Wood Fiber. When the mill shut down, her father was hired briefly in Nanaimo while she attended Grade 3, but moved to Port Alberni part-way through the school year. Rather than move, Yolande stayed at the boarding school and bussed to Port Alberni by herself on weekends. 
"I gained a sense of independence," she said. "I packed my suitcase and would walk to the bus depot and then to my parent's house." 
In Port Alberni, Yolande attended Glenwood Elementary, Smith Memorial and ADSS. She was an avid reader and remembers walking from home in the Glenwood area to the library near City Hall. 
"Our house was always full of music and my mom started reading to us early," she said. "One of my sister's early memories is of my mom and I in the living room with our heads in our books." 
At 16, Yolande took a job at Woodward's every Friday after school and then at the Sears catalogue store after graduation. 
She saved money to attend a technical institute in Vancouver, where she was trained in key punching for the older generation of computers. 
"I never did use that but it lead me to an insurance office," she said. "I started in the typing pool but it was stressful because you couldn't make any mistakes, so I moved on to records."
Yolande eventually moved back to Port Alberni and took on finance positions at the credit bureau, Royal Bank and CIBC. She also worked for dentist, Dr. Zens. It was later, when she started a nursery business, that she was able to get back to her hands-on passion. Known as the "Tomato Lady", she sold plants, vegetables, jams and pottery at the Farmers Market. 
She had a huge garden with 20 raised beds and a greenhouse. She also had the opportunity to get back into pottery, which she started in the 1970s out of curiousity. 
"I took a class at night school because it was popular," she said. "The first time I touched clay, I fell in love with it." 
When she down-sized eleven years ago to a trailer, she had a friend build a studio. 
"He told me to draw what I wanted and he would build it," she said. "We put up the first wall together." 
Another friend helped out by constructing an extruder from plans out of magazine from the 1970s. 
By the time she was fully equipped, she was ready for the first Days with the Arts. Starting out small, she used a sampling of her test mugs.
"The electrician suggested I line them all out on the railing and have a pot of coffee and goodies out," she said. "For a donation anyone could take one with coffee and a goodie. I made about $75.00 for the Salvation Army."  
She said she is always learning and striving to do new things with her clay. Using both slabs and the wheel, Yolande creates everything from everyday items like mugs and dishes to wall-mounted plant sconces and decorations. 
As one of the original artisans of the McLean Mill Christmas Market, Yolande, along with a host of local artists, crafters and home-based business owners will at the mill this weekend from Friday night at 4 p.m. through Sunday and again Dec. 5 and 6. The complete experience includes a train ride from the station on Nov. 28 and 29 and the Santa Train runs Dec. 5 and 6.  
The craft fair helps support the work of the Community Arts Council, which is celebrating its 50th year in Port Alberni.