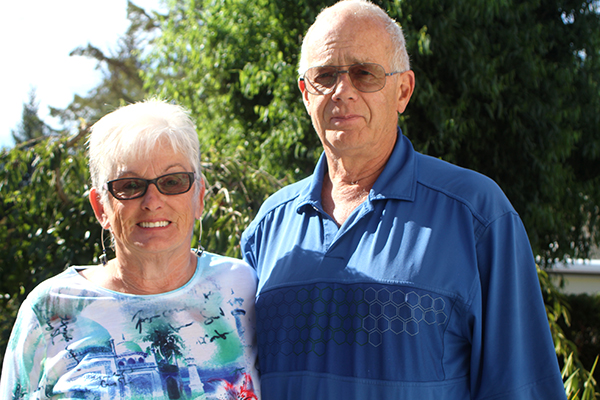 Pat and Derek McGregor recently celebrated their 51st wedding anniversary and look forward to many more years together.
August 26, 2016 - 10:32am
Pat and Derek McGregor are longtime Port Alberni residents who have just celebrated their 51st wedding anniversary. The two eloped when they were in there twenties and they said it isn't a big secret to enjoying the success of a long marriage.
Derek, well-known in the auto industry as a business owner, was born and raised in Port Alberni. His father had a booming gas station, located on Tenth Avenue where Nexcar now operates, and he worked there during his summers off from high school. It started as a bike repair shop, but during the haydays of the pulp mill expansion, Derek's father turned it into a gas station.
"We were pumping as much gas for the money as the big ones in Vancouver," Derek said.
Right after high school, he took a job as an oil delivery driver for one year and then answered an ad for a chain auto parts store that was expanding in Port Alberni. He did that for about five years and from there, took in a number of different jobs, gaining experience at each. He worked at Alberni Engineering, AC Brake and Battery, Rayner and Bracht and the Bill Goodman Chrysler dealership.
"Then I moved to Nanaimo because there was a good opportunity to manage the parts department at Chrysler," he said.
It wasn't long before Port Alberni called him back and he became the manager of the parts department at Ford, until opening his own business, M & D Auto Parts. The building is recognizable with a mural painted by Walter Collins and the late Brad Piatka, honouring his father's gas station and contribution to the automotive industry in the family.
When he met Pat, she had just returned to Port Alberni. Born in Vancouver, she was raised in Port Alberni and graduated from ADSS. She had left right after that to work in the hospitality industry in Lake Louise and then headed back to Vancouver for a job with the Workers Compensation Board.
"When I met Derek I was on my way home from Sproat Lake and Derek had been partying all day," she said. "I stopped to get gas and he was in there getting food. I knew his younger brother Mike who worked at the station. Derek came out and yelled, 'How do you cook this crap?' It was stewing beef and he thought it was steak. I had to go back and show him how to cook it."
"That was the beginning of the end," Derek joked.
They eloped and were married at the Parliament Buildings in Victoria, but for their twenty-fifth anniversary, were surprised with a wedding ceremony by their children, Marnie and Darrin. Since the beginning, the two have kept laughter a part of their marriage.
"You have to have a sense of humour," Derek said.
"Because they drive you nuts," Pat added.
"And you have to like the person," Derek said.
Now retired, the couple enjoy travelling and spending their winters as snowbirds in Arizona. They have already been to China, Egypt, Hawaii, Europe and Russia, but want to see even more new places.
"You realize there is more to the world than just Port Alberni but Port Alberni is the best place to come home to," Pat said. "People are good all over the world and it helps to have a broader outlook on life."
When they are not on the road, they enjoy golfing, tinkering with their classic cars and spending time with their four grandchildren.