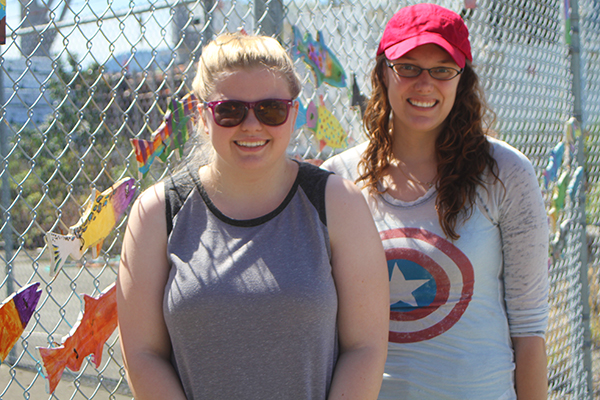 Summer students Emma Vanderlee and Jenn Preedy have been having fun teaching kids all about the local marine environment through crafts and stories. Missing from photo is MacKendrick Hallworth.
Two of the three summer students were down at the Maritime Discover Centre today preparing for Monday's upcoming Tugboat Day. Both Emma Vanderlee and Jenn Preedy have taken on the summer job for the first time this year, along with recent high school graduate MacKendrick Hallworth. They are all responsible for bringing both fun and creative learning, with a maritime theme, to children and families until the end of the month.
Jenn is a new graduate of the University of Victoria with a double major in English and Medieval Studies. Originally wanting to go into teaching, she changed her plans to museum studies, so this summer's position is the ideal work experience.
"I'm hoping to get into a museum course in the Fall, so this is a perfect way to warm up for that," Jenn said. "When I took Medieval Studies, I fell in love with working with old objects and with museum studies, I would still get to teach in a way, so it's the best of both worlds."
Emma also wants to teach, but hopes to include travel by teaching English as a Second Language.
"I would like to go to Spain, that is my number one choice," she said. "I also want to travel around Europe and Asia."
The three started with three weeks of training in June and kicked off the season with an opening on June 18.
"We had a lot of activities, crafts, the Alberni Teens Can Rock and another band played, and we had a barbeque," Jenn said. "It was a chance to let the locals know we are open for the summer."
Every Monday, one of the students is responsible for organizing a themed Maritime Monday.
"We come up with a craft, read a story or two and entertain the kids for a couple of hours," Jenn said. "It's lots of fun. I think we more enjoyment out of it than the kids sometimes."
Last Monday, was flag day where participants created a string of flags from cardboard and twine.
"It was simple with lots of glue and glitter, and kids tend to like that," Jenn said.
This Monday, August 15, MacKendrick will be hosting Tug Boat Day and will demonstrate how to make a self-propelling tug boat from Tupperware. There will then be one more Paint the Pier Day on August 22 before the final event, a derby, on Saturday, August 27.
"That will be our last hurrah with prizes and food," Jenn said.
Another popular attraction has been the historic outboard motor exhibit in the gallery. It consists of a collection from the Western Vancouver Island Industrial Heritage Society's collection of old motors, ranging from 1914 to the 50s.
"It has been very successful and brings back a lot of memories for people," Jenn said. "That is part of the fun with this job. We get to hear their stories and learn everything about local history. Everyone has a story to tell about their experience with the objects."
Check out the Facebook page to keep up on the Maritime Discovery Centre's activities and take in one of the final three events.