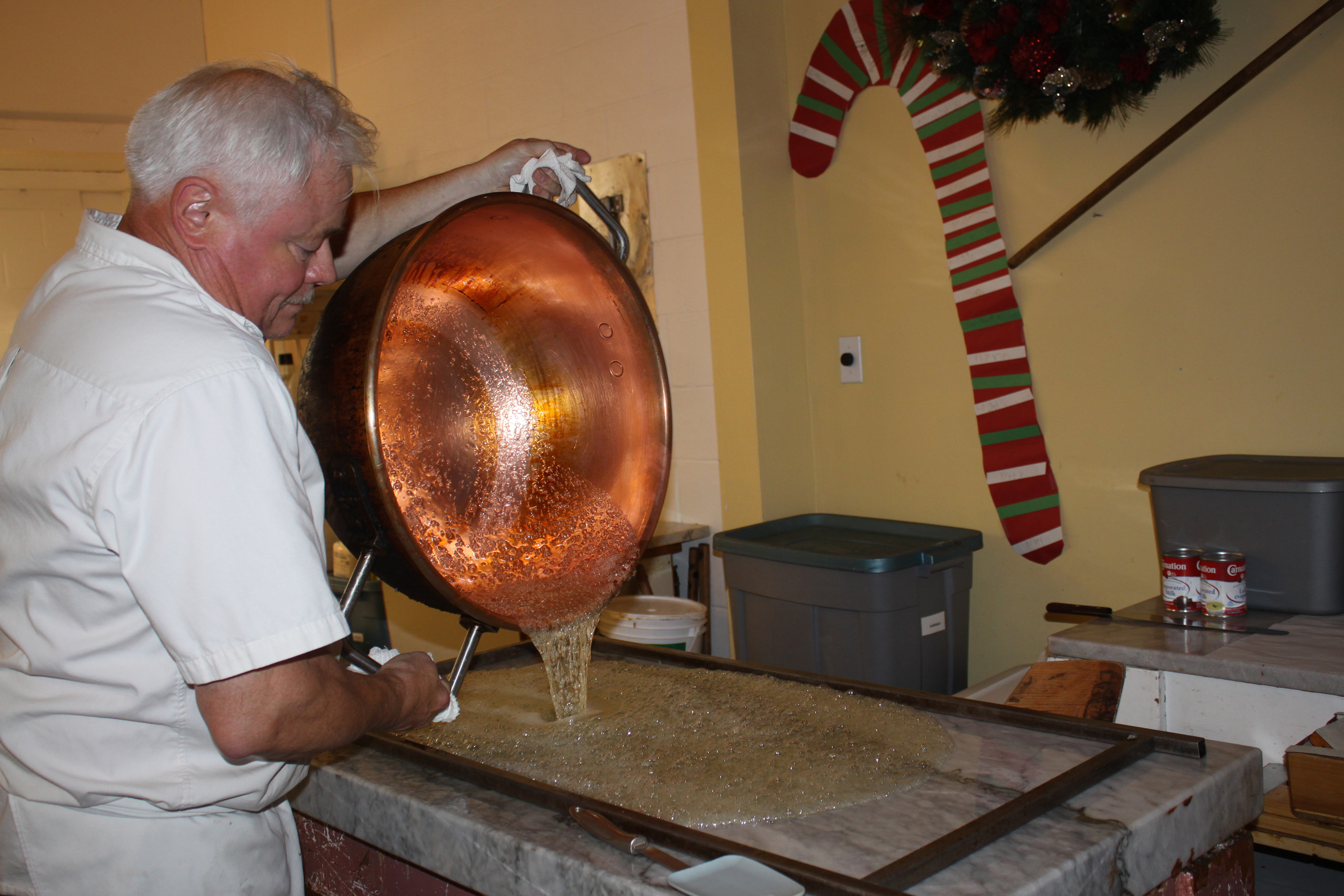 Murray Lawlor will be in the shop tonight demonstrating his infamous candy cane making technique.
December 9, 2016 - 11:05am
With only two weekends left before the BIG weekend, there are a few more events and activities to take part in over the next few days to get you into the Christmas spirit.
Tonight is the night. Do you want to warm up with the comfort of chocolate and the sweet smells of Christmas? It is the ninth annual Christmas By Candlelight at Coombs Country Market and the locally-made treats will be overflowing. Owner Murray Lawlor said the event is always a popular one and is happy with its success for nearly a decade. He started it as a store promotion and share his love of chocolate with the community but it has grown into more than that. It is a tradition among many local families.
"When we started it we wanted to do something to thank the community for its support so we decided to do a little event," Lawlor said. "It has gone from about one hundred people to five hundred or more."
Although crowded in a little indoor retail space, the event works out well each year because it is a drop-in over three hours and there are a few different things to do. Kids and parents can move from watching a candy demonstration, visiting Santa, watching a magician, sampling a chocolate fountain and sitting down with a hot chocolate.
"Everyone moves through and new people come in," Lawlor said.
On Wednesday, local Kindergarten children made the field trip to the store to watch how candy canes are made.
"That is always a big thrill because they get to see how it is pulled, stripped, spun out and made into a candy cane," he added.
Lawlor hasn't made any big decisions about next year's milestone anniversary yet, but wants to end 2016 on a good note.
"We'll get through this Christmas first, then catch our breaths," he said. "It's been a very good year for us."
Chocolate by Candlelight runs tonight, Friday, Dec. 9 from 5pm to 8pm at Coombs Country Candy.
Tomorrow marks another popular event. Families bundle up each December and head down to the train station to take a ride with Santa. The Santa run has been going for 32 years. The first run was along the waterfront, from APD Mill to the Catalyst Paper Mill with the 2-Spot.
"The original intent, as it is today, was to thank the community of Port Alberni for their continued support," said Vancouver Island Industrial Heritage Society member, Kevin Hunter. "This is the final run of the season and is always a sold out event."
The train will run to the Kitsuksis Bridge and back to the station on Saturday, Dec. 10 and Sunday, Dec. 11.
The City of Port Alberni also gives back to the community every year with free skate sessions at the multiplex. Check out how the rink is transformed into a Winter Wonderland when you lace up and skate some loops on the ice. The schedule varies each day and can be found here.
Also tonight, and next Friday, the decorated Rollin Art Centre grounds and gift shop will be open extended hours for shopping. Hours are 11 am to 8 pm Dec. 9 and 16. The gift shop and gallery are full of locally hand-crafted items for everyone looking for a unique gift.
Local shopping can also be done at the Chamber of Commerce Visitor Centre. For each purchase, one random shopper per day will be selected to win a prize with a minimum value of $20, including scarves, Native NW travel mugs, Upper Canada soaps and lotions, t-shirts, bamboo tableware, chocolates and more. Items from the Blue Fish Gallery and other regional merchants are on sale there. And, if you get spotted in one of the participating businesses around town until Dec. 24, you might be chosen as a winner in the Chamber's Try Home First promotion.
Or, if all else fails, now you can just go outside and build a snowman! Stay safe, Port Alberni.