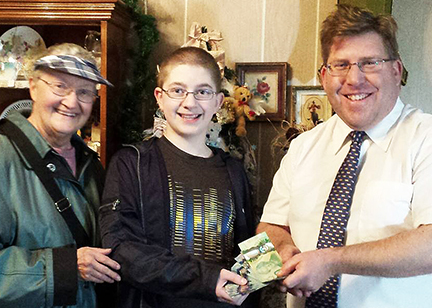 Last year Sally Anderson and her grandson, Zack, were happy to receive a donation from James McLeod for the Read and Feed Program.
November 25, 2016 - 10:42am
The holidays are always a good chance to give back to the community and this year is no different. This weekend is the final two days of the season that James and Elaine McLeod will open the doors of their home, known as the Magic Cottage this time of year, and shoppers have an opportunity to win gifts while supporting the Read and Feed Program.
In its ninth year, the Read and Feed Program has grown since its infancy to meet the needs of children in the school district. When Sally Anderson started volunteering to make breakfast and read with students before school, she and others had only enough funds and hands to help one school. They gradually added schools and now have about 150 volunteers cooking, serving and visiting with children at Alberni Elementary, Maquinna Elementary, Wood Elementary and A.W. Neill Middle schools.
"The big news this year is that at A.W. Neill we now have students from grades four to seven on board as breakfast volunteers," Sally said. "These are children who were fed and read to at Gill Elementary and are now paying it forward to other students. They are doing everything from reading and greeting to making toast, serving and washing dishes."
She said youth helping youth benefits both the older and younger students and the ones in the higher grades are learning new skills and compassion.
The program feeds about 300 students and is accomplished through limited funds and volunteer effort. As the long-time volunteers get older or turn to other projects, Sally hopes more students will start volunteering.
"We are desperate for volunteers at Wood School," she said.
She said the opportunity exists for students of ADSS to help at that elementary school before classes start and use the volunteer hours to contribute to their graduation requirements.
Besides making and serving the healthy breakfasts, the program cannot exist without the funds to purchase the food. The program receives this through donations from the Breakfast Clubs of Canada and Breakfast Clubs for Learning, but also local businesses, organizations and individuals.
"We couldn't do it without the support of the wonderful people of Port Alberni," Sally said.
On Wednesday, she received an email from the local Remax Mid-Island office whose staff are encouraging the community to come in to check out their Christmas tree and donate a gift card or cash to the Read and Feed Program.
The donations collected at the annual Magic Cottage craft sale will also go to the program. It is something James and Elaine have done for the past three years.
"We believe it is important that kids are fed and cared for and begin their day happy and calm," Elaine said.
The two have raised about $600 in total since they started the gift basket draw.
The sale is a unique one because their small home is transformed into a little Christmas village.
"We like the pop-up store gallery concept and think it is a nicer way to shop," Elaine said. "Plus, we get to share scones and hot apple cider with the adults and kids that come in. It's amazing how the simplest thing like a little bit of food can really brighten a person's day."
The Cottage will be open Saturday from 10am to 6pm and Sunday 10am to 5pm at 3945-4th Avenue. Stop by for a little magic and donate to a worthy local cause. For more information, go to the Magic Cottage facebook page here.