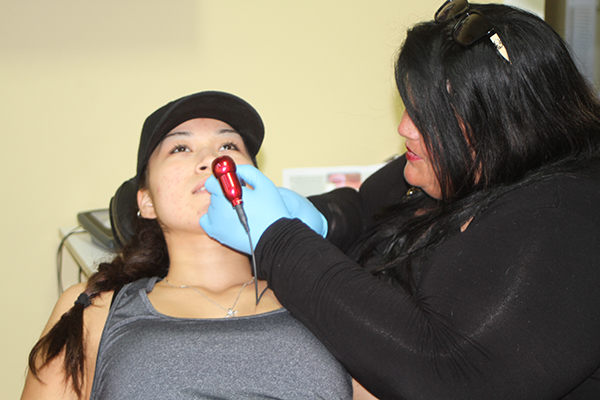 Angela Mallory does everything from lip enhancements to adding semi-permanent eyebrows, as well as wrinkle reduction, in her Ageless Ink office.
After being bothered by a noticeable scar on her leg for years, Angela Davies decided to look into ways of minimizing its appearance and it led to a new career path. She now helps other men and women with cosmetic tattooing and will soon be certified to complete paramedical tattooing, which is something she would require on her own scar.
"My youngest daughter brought it to my attention because I was always complaining about my scar," Angela said. "She asked why I don't get a medical tattoo, so I looked into it."
Angela did her research for three years before launching Ageless Ink. She completed her training and apprenticeship under Sandra Danchuk in Nanaimo. She underwent 500 hours of hands-on training after theory and sterilization courses.
"I did my first tattoo on toilet paper so I could learn the depth of skin layers, and then on fake skin," she said. "Then I job shadowed and my daughter was my first client when I did her eyebrows."
As a former care aid at Fir Park Village, and now working in the programming department, Angela felt she had the skills and knowledge to branch out on her own.
"I have the medical background when it comes to sterilization and the compassion needed," Angela said. "I have always been into make-up so I took the jump. Seeing how much it changes people and helps them is remarkable."
Unlike body tattoos, cosmetic tattooing uses semi-permanent ink to change with the body's natural aging procedure.
"Faces are forever changing, so we can change things along the way," Angela said.
It is also virtually pain free because the area is numbed.
Angela said the treatment is popular among the ages. She has helped younger women achieve fuller lips and has reduced fine lines and deep wrinkles on those concerned with aging. She is also able to do hair replication for thinning hair, can diminish signs of acne and add eyebrows and eyeliner. One of the most rewarding of the job, though, has been working with patients who have had medical treatments.
"If you have had heart surgery and don't like the scar, I use colour matching to blend it in," Angela said. "Some women with breast cancer come in after having breast implants."
Known as the "lip queen" in the industry, Angela successfully reconstructed the lips of a survivor of mouth cancer.
"It is tearful, exciting and remarkable," Angela said. "I want to do whatever I can to give them that self-esteem and helps them along the way."
Angela wanted to open the service in Port Alberni because she saw the need and the closest alternative was in Nanaimo. She wants people to "wake up in their make-up" with her cosmetic tattoos and offers free consultations. She is among other women in business in an office at Slammer's Gym. Find out more information and watch for specials on her Facebook page.