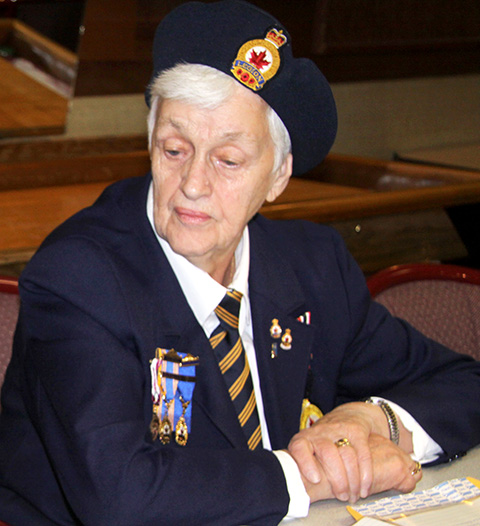 Winnie Koal reflects on her life and times in the Armed Forces.
November 11, 2016 - 6:55am
Winnie Koal was born and raised in Port Alberni. She has spent most of her life here, save for a few years spent during the peacekeeping years in Germany. The experiences she and her family underwent during the war are incomprehensible, but they also allowed her to become a proud, patriotic Canadian. 
"Today they are doing the job they have to do to the best of their ability," Winnie said. "I hope there is hope for the future."
She said that although it started over 70 years ago, similar things still exist today. 
"Everything was ok until Pearl Harbour," Winnie said. "That's when things changed. 
Winnie was a young child in 1942 and was attending school at Calgary Elementary. Her family, of German descent, was living behind Dairy Queen, where there was a large fish fleet for Japanese workers established. 
"We woke up one morning and everything was boarded up," Winnie said. "There were no Japanese people on the streets or in sight. It must have happened overnight. All of the families were uprooted and sent to internment camps." 
Winnie's father owned a store nearby on upper Third Avenue and soon after, he woke up to find large black swastikas painted on the windows. The police attended the scene, and although her father had an idea of who the culprit was, he had no proof and nothing was done. 
Then Winnie's parents, the Ankers, moved further away to Josephine Road where they kept horses. The police, again, were called to the home a number of times as the family were wrongly accused of cruelty to animals. 
"There were always complaints, so the police came," she said. "My mom called up the horse, [the police] looked at it, looked at my mom and laughed."
What she remembers the most from childhood is the cruelty from other people. 
"We were always told to go back to Germany and eat out of garbage cans," Winnie said. "To be bullied was nothing. It was just an ongoing thing." 
The home was also searched for documentation to try to prove that Winnie's father was on side with the Germans, but nothing was ever found. 
"It was all totally uncalled for and unfair, but what do you do in war?" she said. "Everybody is hurt in war."
Ironically, rather than feeling angry about the situation, it made Winnie feel more patriotic and proud to be born in Canada. 
"As I grew older, I really didn't know what I wanted to do," Winnie said. "In grade 12 I had a really good counsellor and suggested I try to join the services. That is how I came to join the Canadian Airforce." 
As a bilingual switchboard operator, Winnie sailed to Germany with a contingent of colleagues on the SS Atlantic in May 1954 and spent three years there in more peaceful times. There was still damage and an element of unrest and her instinct told her of which places to stay clear.
She said it was an opportunity of a lifetime and was able to travel to places like Holland, Denmark, Norway, Sweden and the Alps. 
Winnie married her first husband in Germany and had her first daughter there. In 1957, when her husband left the service and there were jobs available in Port Alberni, they returned and he went to work at the plywood and pulp mills. 
When she sees coverage about current uprisings, she still can not comprehend the reasonings. She does,  however, understand how the families and children of soldiers feel, and it is for them that she hopes for a peaceful future. 
"I still can not fathom how one nation can do that," she said. "In war, nobody goes unscathed. When I look at it today and it's still going on, I wonder why we can't just live together no matter what colour without all of this other stuff that comes with it."
Yesterday Winnie attended the high school Remembrance Day ceremony and said the students did an excellent job. Like every year, she will also be at Glenwood Centre today. 
"The Legion is always impressed with the turnout," she said. "It is important to go to think back on what happened and all of the lives that were lost in the two world wars, and not to forget that we were also in Korea. All of those people gave us what we have today."