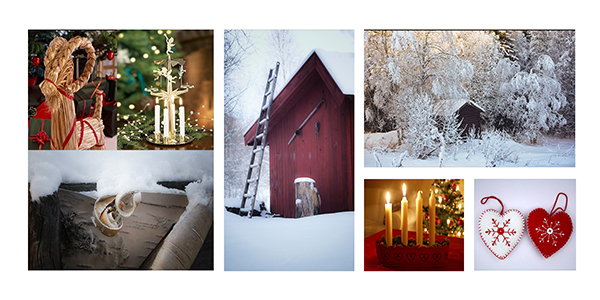 Gittan Klemetsrud will be instructing a workshop on how to make similar Christmas crafts.
November 22, 2016 - 11:04am
Do you like the rustic, simple look in your home? If so, you might want to attend a workshop starting this week to create some homemade Christmas crafts inspired by Swedish traditions. Gittan Klemetsrud is bringing her talents to the Art Matters Arts Centre to share her culture and get the Valley into the Christmas spirit.
For three evenings, starting Thursday, Nov. 24, Gittan is running "Scandinavian Christmas". Gittan made her home in Canada 18 years ago, but has kept her roots by bringing her favourite traditions with her. Last year, after organizing a Nordic Christmas concert with local residents, she was inspired to offer this hands-on workshop this year. She reflected on the values associated with Christmas in Sweden, which are rich in culture, heritage, and family.
"Christmas is a family time that in today's society isn't there a lot anymore," she said. "Christmas for me growing up was magic..the familiar smells of baking and food...the snow...the candles and the pretty homemade decorations."
One of the big things is making homemade crafts. She started at a young age in school and kept up her passion for the arts. Based on simple, "less is more" styles, the main colours seen at Christmas are red, white and gray. Typical ornaments are made of felt and embroidery. There is a traditional goat made of straw, called a Julbock and gnomes, or "tomte", which protect the home and act as guardians of the Earth.
Every year, Gittan makes new decorations to add to her collection and lights four candles in sequence, beginning four Sundays before Christmas.
"I decorate with a lot of simple things, like greenery and candles," she said. "Most of the ornaments are homemade and I have some on the tree that I have had since I was little. You can't replace that. It has so much sentimental value."
Participants will make and complete the crafts over the three weekly sessions. One of the projects will be an advent calendar that everyone can customize for their own families. Ideas will be shared on what can be included for each day, from activities to treats to small gifts.
"We will be doing things that many people don't do anymore, like hand embroidery," Gittan said. "It will be a good way to connect with people and we will have Christmas music playing. I want to create a different kind of feeling, where people are proud of what they see when they are done."
Participants can expect to use their decorations this year to create a more "rustic, cozy, homey" feel, Gittan said.
"This is a chance for me to share my culture and traditions after being here for 18 years," she said.
As a member of the Art Matters Society, Gittan is using the new space at Harbour Quay, home of the Art Matters Arts Centre, located at 5417 Argyle Street. Anyone interested can sign up there by Wednesday at 4pm or by emailing gittanklemetsrud@gmail.com.