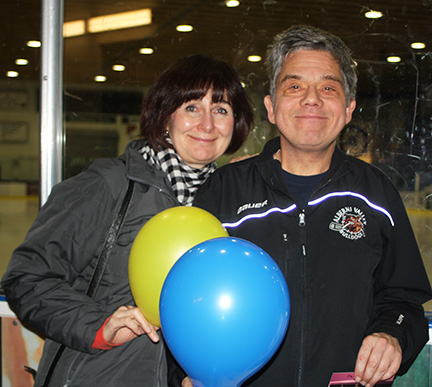 Join Nancy Wilmot, Jamie Amos and a host of others to celebrate Nancy's birthday and support the local Special Olympics at the same time.
Nancy Wilmot is throwing herself a birthday party, but the gifts will not be for herself. Instead, she is hosting a fundraiser for the local Special Olympics and is inviting the whole community to help celebrate her special day for some special athletes. 
Over the years Nancy has made connections with the Special Olympics organization and met many of the athletes through her work with Shaw TV. It was last year, though, while filming a story that the importance of the nonprofit organization hit home. It was at the bowling alley where she saw the roles fun and passion play in sports. 
"They were all having so much fun and it really struck me that there is a price tag on all of those smiles," Nancy said. "It was definitely the smiles that brought it home to me. That was the first time I realized that they get absolutely no government funding. Every cent they use, they have to get through fundraising." 
As a volunteer herself with Pot Luck Ceramics, Nancy also knows how difficult that can be. 
"You can't cut up the pie too many different ways and it is difficult to fundraise for everything," she said. 
When she started to brainstorm fundraisers with Special Olympics coordinator, Linda Scobbie, they first determined the time of year. January typically has little going on, so a friend suggested coordinating it with her birthday. Soon, the idea snowballed with others getting on board. Charlene Patterson donated her venue, food and live music were donated and silent auction items were secured. 
"I really do love to have parties, so this will be a way for everyone to come out and support a great cause at the same time," Nancy said. 
With a limited $20,000 operating budget, Nancy is hoping the fundraising will help with some of the costs associated with running the Special Olympics. Completely volunteer-driven, the year-round fundraisers are required to pay for the venues, equipment and travel to competitions. 
One of those athletes who has experienced the rewards of competition is Jamie Amos. As a figure skater for only the past three years, Jamie has already won four gold metals and one silver. Known for his off-ice presence as theassistantequipment manager for the Alberni Valley Bulldogs, Jamie was encouraged by his friend, Kari Trott, to try his skills on the ice. He registered for figure skating but was using hockey skates the first year. He said his biggest challenge was the transition to figure skates. 
"I had to get used to them with the ice pick on the end," Jamie said. 
But he said loves the feeling of his hard work paying off. 
Jamie's success continues to inspire Nancy.
"When these athletes are competing, they are all 100 per cent in," she said. "You could be watching the Special Olympics or the world-class Olympics and you can see that the interest and the focus on the game is all the same." 
Special athletes-to-be also get a chance at early learning through the Special Olympics Active Start program for children aged 2 to 6. Meeting one of those children was also a highlight for Nancy. When Mike McKay brought his son, Rocky, to the program, Nancy asked why they were there. 
"He said it was all about introducing his son to the love of sports and wasn't about special needs at all," she said. "Rocky was having a blast, running, playing and throwing the ball." 
You can join Nancy and her guests on Jan. 31 from 6-9 p.m. at Char's Landing. Admission is by donation and all funds raised will go directly to the local Special Olympics Program.