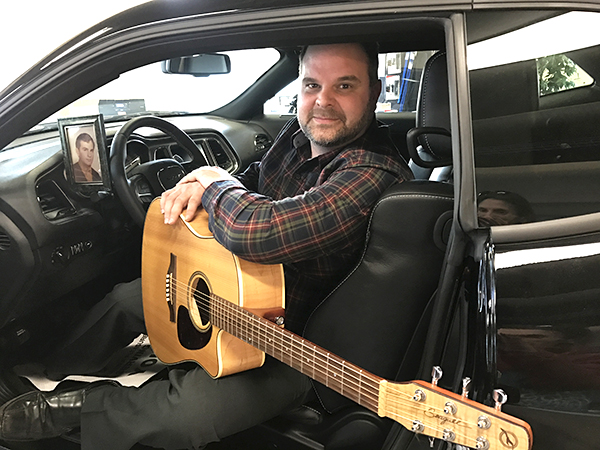 Lance, with his guitar and photo of his late father, sits in a sleek new car at Alberni Chrysler.
You might know Lance Lapointe from seeing him rock on stage or from one of the many schools he attended in the Alberni Valley, but now you can also talk to him about all of your car-buying needs at the top of the town. Lance has recently accepted a day job at Alberni Chrysler, leaving his weekends free for recording music and performing gigs.
Born and raised in Port Alberni, Lance has dabbled in a bit of everything, but it has always been music that is deep in his soul. When he graduated from ADSS in 1994, he went straight to Toronto for a record deal. His band there, Playgound, recorded music and toured, but when they disbanded, he went solo. In his mid-twenties, he was living in Poland and playing in places like Dubai. He also worked his way up in restaurants from dishwashing to serving to make ends meet as a musician.
When he returned to Port Alberni, Lance entered the healthcare field, working initially at the Port Alberni Association for Community Living and then with TMS Services. Until recently, he has been pursuing a successful music career full-time with performances and songs rotating on the radio.
He said he has been influenced by his musician father, the late Len Lapointe, who passed away in 2013.
"He encouraged me to go into music full-time," Lance said. "I love all types of music, though. I can listen to jazz, classical, country, and Celtic. I grew up listening to Led Zeppelin, the Beatles, Pink Floyd, and was a huge Rush fan."
Don't get him wrong, though. Lance has also had a long-time love of cars.
"I remember sitting in my uncle's Dodge Dart with friends listening to tunes," he said.
As a father of four boys, three of whom still live at home, Lance decided to make a career change to be more involved in their active lives.
When he started his new career at Alberni Chrysler two weeks ago, he jumped in with both feet to learn about all of the technical aspects, from what type of engines are in every vehicle to all of the latest safety features. He said the technology has come a long way.
"The self-parking and backup cameras are amazing and cool," he said. "I brought some CDs to work because I've gotta hear what the stereo sounds like!"
He also appears to be living the dream because he has his guitar parked in his office, as well, and will play for anyone wanting some entertainment while waiting for their vehicle's servicing to be completed.
Lance sold his first car in his first week on the job and likened it to writing, selling, and performing music.
"It's that same feeling of bliss," he said. "It's like when you're on stage and see everyone go out on the dance floor. When customers are happy with that new car smell it makes me happy. I was there with my sister, Michelle, when she bought a Jeep Cherokee here and I saw how excited she was. I have never felt so passionate and exhilarated as I have with this job."
Lance started at the same time as another new sales person, Trish Kellett, so they are learning the ropes together.
He encourages the public to keep an eye out for more information on his and Alberni Chrysler's Facebook pages regularly.
"I will be making some songs and jingles for ads and we plan on having some events and fundraisers here," Lance said.