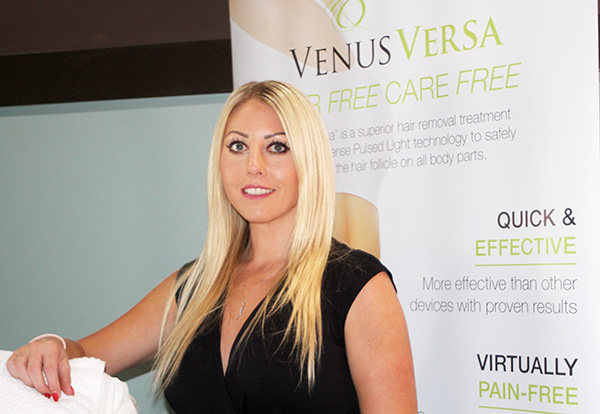 Kristy Krishan has found her passion and wants to continue to help others through her new business.
September 20, 2016 - 8:50am
Kristy Krishan has a passion for helping others and has recently combined that with the launch of her own business. She is motivated to bring confidence to women and men through her certification as a medical laser technician and has found that being self-employed fits with her way of life.
Kristy was raised in Port Alberni and spent most of her life in town until moving to pursue work opportunities after graduating from ADSS. She has done a bit of everything but it all comes back to working with people. While she was living in Victoria, Kristy was a human resources consultant from 2000 to 2005. After that she worked in loans, mortgages and sales and completed the Resident Care Attendant program in 2008. After most recently being employed in the health care industry and experiencing an injury, she decided to follow her dreams.
She started her training as a medical laser technician in the Spring of this year and opened her own laser hair removal and skin rejuvenation clinic in July.
"I help people with embarrassing and unwanted hair, uneven skin tone, rosacea, age/sun spots and large pores," Kristy said. "Giving people back their confidence is key."
Kristy's background in health care, a requirement for certification, helped her successfully complete the intense training through Venus Concept. As the only laser hair removal and skin rejuvenation clinic in Port Alberni, it is something Kristy wanted to do for the past three years.
"I decided life is too short and now I get to do what I am passionate about," she said. "I invested everything in a top-of-the-line advanced medical esthetics machine and so far my clients have been over the moon with the results."
Kristy's future expansion includes more versatility to include body contouring, cellulite reduction and deep scar treatments.
"There is room for growth," Kristy said. "I want to help bring that service to Port Alberni."
Kristy said her top priorities are client safety, comfort and confidentiality and will always provide in-depth consultations before doing any laser therapy. She said the process is virtually pain free and most people only feel a warm sensation. After seeing the results, she feels she is in the right industry.
"So many women and men of all ages have sun damage and if I can help reverse that, and give them back a brighter more youthful complexion, why not?" she said. "It works by penetrating IPL through the epidermis into the dermal layer, the laser targets vascular and pigmentation imperfections and stimulates the production new collagen resulting in less fine lines and wrinkles."
It also helps that Kristy has more flexibility in her life.
"I love being self-employed," she said. "I have a six-year old daughter so I can work around family and I am driven and focused to build an empire for my daughter and myself."
Kristy is located in EM Salon on Margaret Street and takes clients by appointment only. Call 250-735-4418 or see her Live Love Laser Clinic Facebook page for more information.