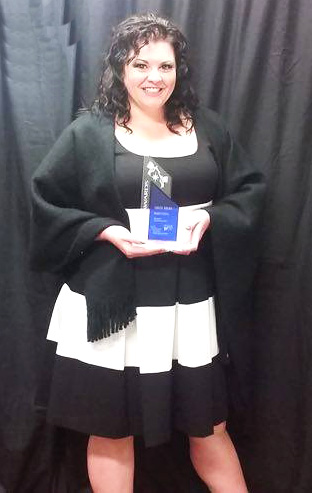 Desja Walker, owner of Haven Living, took home the Green Award on Friday night at the Chamber of Commerce Community Excellence Awards.
18 local businesses and individuals were recognized on Friday night at the annual Chamber of Commerce Community Excellence Awards gala. The event, a sell-out held at the Italian Hall, was well attended by both finalists, nominees and the public.
Some of the winners were brand new to the event, while others took home the award after vying for the honour in previous years.
Haven Living won the Green Award, and was among nominees Green Earth Woodworks and The Place. When owner, Desja Walker, reflected on the achievement, she said she was proud of the road on which she walked to get to where she is today. She also did not ignore the irony of the honour. The award was presented to Walker on Earth Day for the success of her all-natural skin care products. It was also two years after the entrepreneur broke ties with former business partners who did not have the same environmentally-friendly vision for the company.
While going through a challenging time in her personal life, Desja had been working on the lower mainland with two others to launch a potential retail business. She brought 16 years of experience in natural health and skin care and was confident that her products were what their customers were looking for. Not all shared the same view.
"She said she wasn't willing to risk the company over my products," Desja said.
Desja took that as a sign that she was meant to follow her passion, so she packed up her home, her two children, and as a newly single mother, moved to Port Alberni site unseen.
"I looked at what I wanted to do and conceptualized that as a whole of happiness and success and what that looked like for me," she said.
Desja continued to develop her line of natural skincare products, opened her shop and has continued to support colleagues in the field by bringing in a range of inventory from Canadian retailers, mainly from the lower mainland and Vancouver Island.
"I was left with the core of what I really wanted to do and what others didn't see as valuable," she said. "I will always choose products that are in line with my values."
Franco and Stacey Gaiga were honoured with the Visionary Award for their work of transforming brown space to green space at Third Avenue and Angus Street.
"We are doing this to beautify what used to be an empty lot filled with gravel to something more inviting to help increase pedestrian traffic in the uptown so people will patronize existing businesses and hopefully attract investment to the area," Stacey said.
The park is an extension of other work the couple has advocated for and volunteered with over the past 10 years. On an environmental level, they work closely with Island Timberlands to try to help maintain the views of forested land in the area. They brought attention to the close proximity of logging to Lizard Lake reservoir and the threats it posed to local watersheds and helped to discourage Raven Coal from making Port Alberni a coal port.
Stacey and Franco contributed to the spaying and neutering of hundreds of domestic animals in Port Alberni and contributed to a hospital fund for injured and sick animals.
"We beautified our South Port neighbourhood by hiring a professional pruning company to give our neighbours views of the ocean from their homes and we have invested in commercial and residential properties to help local residents be successful in their life or business," Stacey said. "And we already have more projects lined up to continue to help our community."
Patty Edwards was nominated last year for Citizen of the Year and was surprised and honoured to take home the award this year. It was primarily the work she does as an advocate for the homeless that was taken into consideration.
"I came to the community as a single mom with two preschoolers when I was in my early 30's," Patty said. "I didn't know anyone and had to build my profile."
Those early beginnings of challenges allowed her to learn how it feels to live on very little and understand what people in poverty are going through currently.
"It is time to address poverty issues and work towards solutions," she said. "I feel everyone should have a safe place to live and that has been my passion. But it is not done single-handedly. I have been a chair of the Alberni Valley Community Stakeholders Initiative to End Homeless for seven years and have gained so much from being on boards and committees by bringing issues to the table and make changes to the system.
She said it is a passion for which she will continue to fight.
"It is my calling to stand by people who are in the same situation I was in and I see the need to help empower them," Patty said.
Other winners include:
Business Investment Award: Mahoe Properties
Special Recognition Award: Pot Luck Ceramics
Rising Star: Vancouver Island Limousine
Welcoming Workplace: The Starboard Grill
Chamber Award: Boomerangs Café
Tourism and Hospitality: West Coast Edge ATV
Spirit of Music: Pat Miller, Timbre! Choir
Health and Wellness: Alberni Valley Hospice Society
Social Media: Great Central Social Co.
Youth of the Year: Kayla Caddy, Oliver Witham, and Theresa Gingras
Volunteer of the Year: The Attic
Customer Service: Alberni District Co-Op
Business Excellence: Hertel's Meats