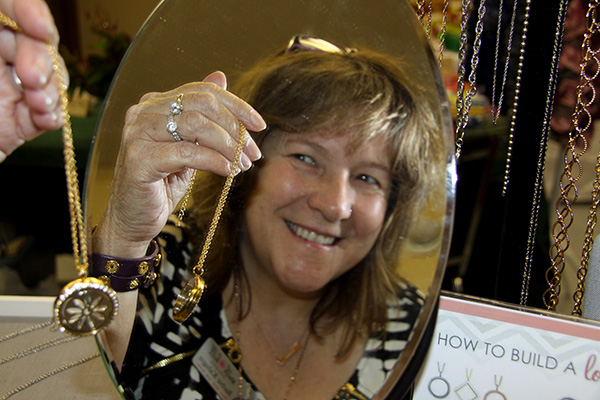 Barb Kalugin will be at the Best Western Barclay Hotel Saturday evening with her South Hill Design lockets.
January 29, 2016 - 8:11am
There has been a rapid growth in recent years of products and services sold by direct sales representatives. These home-based businesses offer everything from the age-old Tupperware cups and storage bins to trendy beauty products, unique food and household cleaning solutions. 
Recognizing this growth in Port Alberni among local entrepreneurs, alberni.ca has just launched a new directory for everyone to easily shop locally from home. 
"The vision of alberni.ca has always been to inform people about Port Alberni and to inspire them to make it better," said founder Jack Tsai. "Over the years we have continued to make steady progress so this year our desire is to continue to roll out more community information." 
He said it is a cost-effective way for these small businesses to get their messages out. 
"I am really excited to roll out the direct sales page," Tsai said. "Not only can people find unique and quality products, they can also find out opportunities to get into business themselves." 
The timing matches that of the first small business fair of 2016 in Port Alberni. On Saturday, a group of merchants will be set up with their wares at the Best Western Plus Barclay Hotel for the Valentine's Fair.
Among them will be Margaret Marshall, a well-known face with her brightly coloured Tupperware. Marshall started selling the product in the 1970s by first hosting parties for others. She had the opportunity to earn household items like lamps and coolers. That encouraged her to become her own boss and now offers the chance for others to earn free Specialty Tupperware products. 
"It is the same durable product," Marshall said. "Some people might not know about the lifetime warranty, how it works and what in particular is covered."
Although the internet has changed the way all of these products can be sold around the world, there are still the benefits of the traditional home party. Not only can guests see and touch the items, they get the added social time with friends and family.
"We do demos at parties so they can see how a product is used with a yummy recipe," Marshall said. "Home parties are fun and you meet a variety of people. I also love to do markets and fairs because it is a great way to showcase more of Tupperware product lines than what I would normally take to a home party." 
A relatively new trend representatives have been selling online and at shows are Jamberry nail wraps. 
Laurel Seabrook started selling them in April 2014 and is on her way to earning a trip to New York City with her commission. 
"As someone who was never one to do her nails, it was quite surprising to me that I took an interest in them at all," Seabrook said. "I saw them on Facebook and thought they looked interesting.  I couldn't find a consultant here so I just signed up, without ever even seeing or trying them!  When I received my kit I couldn't wait to share this amazing product with others."
Seabrook said the wraps are perfect for those, like herself, who have difficulty applying nail polish neatly or are tough on her hands. 
"The Jamberry Nail wraps are so easy to apply, have no dry time thus no smudging, and they last," Seabrook said. 
She tends to use a variety of selling techniques and takes advantage of the flexibility the sales position offers. 
"Word of mouth has been great but I also do a lot of my business online," she said. "There's nothing like making some extra money while in my pajamas!  I do enjoy getting out into homes and demonstrating how easy the Jamberry wraps are to use.  A girls mani night out is always fun. I work full-time as a teacher and I call this my fun money."
Jennean Bruner has also successfully worked her way up the ranks with her Jewellery in Candles. The scented soy candles reveal a necklace, ring or earrings when they are burned down. She got in to the business last November after hearing about it from a coworker. 
"I market myself by social media mostly, and online classified," Bruner said. "I love to do craft fairs when I can. I literally do anything there is possible to get myself out there. I treat it seriously and put in the hours necessary to work on my business." 
Bruner said home parties work well for her because people like to touch and smell the gift items. 
Bruner, Marshall, Seabrook and a host of others will be at the Valentine's Fair tomorrow evening from 5 p.m. to 9 p.m. 
For a list of other local representatives or to book your space on our new directory, click here.