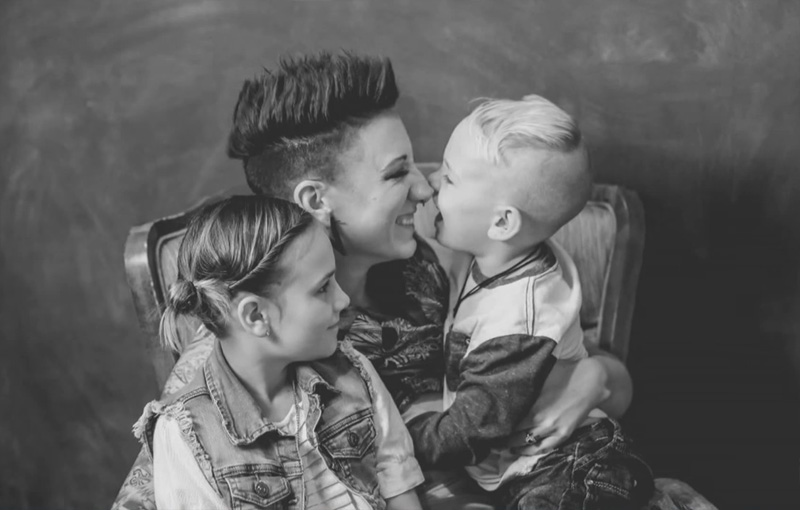 Image from #consciousbeautyproject
November 18, 2015 - 6:57am
Desja Walker wants to empower other women and girls to create change in the community. With the help of like-minded peers and their children, Walker, Dallas Dalziel Productions and Andrea Anderson Photography produced a video and images that provide a message of hope and support. After receiving a number of shares around the world, the collective group has been inspired to keep the momentum going in Port Alberni. 
Walker, a local entrepreneur and single mother of three, was new to town last year when she took the leap to start her own business. 
"Through social media I was able to connect with a peer group," she said. "We network together and now want to create change in a positive way." 
Inspired by other online videos, Walker wrote the script and recruited friends to share their own messages of what beauty means to them.
"We are having conversations with our daughters about this new bullying that comes across in our culture that our generation wasn't faced with," Walker said. "Our daughters have these expectations to live up to that are fake. So many women in my age group walk around having no value and struggle, thinking they are not enough."
She blames the words and images portrayed in the media.
"I thought, what would happen if a group of intelligent women said, 'No more'. We belittle ourselves when we are so much more than what we look like." 
Participants in the video agree. Tara Brooks said the experience was an important one for her 13-year old daughter, Molly. 
"The first thing I told my kids, and still do on a daily basis, is that beauty, grace and kindness come from within," Brooks said. For Molly, that five second spot meant a lot more to her self-esteem, her heart and her being…mine too."
As a single working mom of an active young son, Kama Money said it is important to make time for herself to create balance.
"Single moms need to carve out 'me time' and make conscious efforts to invest in themselves," she said. 
Tannis Seredick said she is raising her son to have respect for women through positive messages.
"I grew up with all sisters so he is learning how to treat women and value the women in his life," Seredick said. "He is around aunts and grandmas who are gorgeous but I want him to know that people's worth are more than just looks." 
Although the main message behind the video is aimed at positive body image and self-esteem, Walker said it is also about empowering women to take lead roles. She said the two go hand-in-hand.
"Look at how far we have come," she said. "We have gone from getting the vote to having women in politics. I feel that within my group of peers, we are sick and tired of the playboy image and we are standing up to say we are bigger than this. We are changing the face of what an entrepreneur is. We are taking it to another level. We are intelligent, educated and creative." 
For Walker, her year in Port Alberni has not always been an easy road and she often wondered if she would be able to make it in business. 
"I have learned more in the last year about myself as a person than anything else on this journey," she said. "I have learned to take control of my life and be genuine to myself."
Walker said she does not want to stop with the nearly two-minute video. In the New Year, she hopes to continue to work towards a bright future for Port Alberni through a series of workshops.
"I see a great opportunity to change lives and an opportunity to offer support and encouragement with women who have gone through some terrible life events, events that have caused them to feel worthless, broken and damaged. We have an opportunity to give women strength to see their potential and build them back up."
For more information, Walker can be reached at Haven Living at 4528 Adelaide Street.