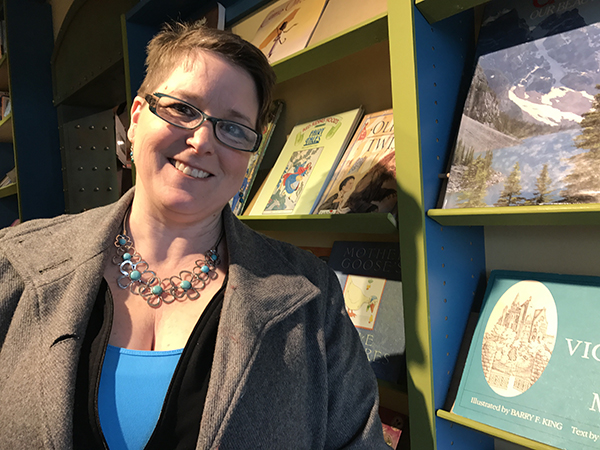 Laurel Seabrook has been recognized for her paper crafts by industry magazines and shares all on her blog.
February 21, 2017 - 8:01am
Once you've been bitten by the creative bug, it never goes away. No one knows that more than Laurel Seabrook, which is why she is back at it after scaling back for a short time.
Laurel is known across North America for her work, particularly in paper crafts and scrapbooking. It all began at home in Port Alberni. Her mother, Ellen Lacharity was just as creative and it was from her that Laurel learned to sew, knit, and crochet.
"I dabbled in a bit of everything," Laurel said. "I painted and had art kits. It was always in me to do."
During university she often sewed her own clothing, a pastime she kept up after her two daughters were born. Originally enrolled studying to be a dietician, Lauren changed her mind partway through and graduated with two degrees; one in education as well.
"When I got my first teaching placement, I knew I was in the right place," she said.
In 1993, Laurel and her husband, Jason, moved to Castlegar, where their daughters were born.  She was substitute teaching part-time and discovered her entrepreneurial side with direct sales of Close to my Heart stamps. Soon things really started moving and Laurel was spending many hours on her passion. She joined paper craft design teams for magazines before scrapbooking became a big trend.
"I applied for some and became recognized, so they started approaching me," Laurel said. "They would send me kits and papers and we were required to do two projects per month and post them on our blogs."
Published in several magazines, Laurel focused mainly on cards, scrapbooking, and altered books, but also enjoys upcycling, wood crafts, and coming up with new ideas of her own. She feels it comes naturally with her eye for colour and creativity.
"I love to mix and match patterned papers, use layering techniques and my Cricut machine and dies," she said. "I can look at something like an old box and know what I want to do with it. I once took an old strawberry pie plate and made a matching gift basket out of it."
Laurel's name quickly became known thanks to social media, but it also took a lot of initiative.
"I had to work hard, otherwise I wouldn't have been approached," she said.
By 2002, the family moved back to their roots in Port Alberni, where Jason started work as a manager at the pulp mill and Laurel started teaching as a substitute. Now she works full-time as a Grade 1 teacher at Maquinna Elementary.
"It is a fun age to teach," she said. "They are there to learn and easy to please. They take everything in like an open book."
Laurel said she likes to keep her art in the classroom basic.
"I want them to do things themselves, like painting and cutting, so there are no kits and it is all their own artwork," she said.
Between work and family obligations, Laurel felt the need to step back a bit from the design teams, but has recently gone back to her creative pursuits for herself.
"I have a craft room full of stuff calling my name," she said. "I have it so I need to use it and am trying to make it a priority."
Now that her daughters are on their own, she also decided to make time for more entrepreneurship and is a Jamberry consultant, a company that provides decorative nail designs.
"When I saw it I was attracted to it but I never did my nails growing up," Laurel said. "I had no intention of doing sales or parties, but I thought my daughters and nieces would like them. Then I tried them and couldn't wait to share them with people. It really carries over to my love of mixing and matching patterns."
Laurel said her key to maintaining a balance it setting priorities.
"I get up early and don't watch TV," she said. "I walk the dog and go to Zumba a couple times a week. It's all about time management."
Check out Laurel's blog at https://laurelseabrookdesigns.blogspot.ca to see where she puts all of her creative energy.