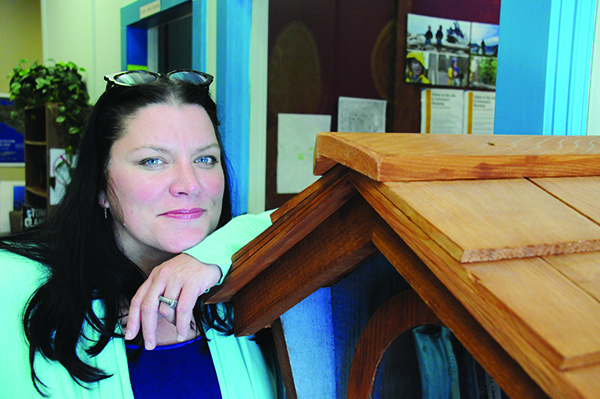 Charmead Schella has been busy packing up her life's belongings to prepare for her family's move to New Zealand.
A loss for Port Alberni will be New Zealand's gain. Charmead Schella, the well-known friendly face at Literacy Alberni will be moving there next month to start a new life with her family. The wife and mother of two boys made the decision with her husband, Chris Marshall, so they could live closer to family.
Marshall is originally from New Zealand, and as such, the couple's two sons, aged 7 and 9, have dual citizenship.
"We realized early in their lives that it is better for the family to be around a bigger, extended family," Schella said.
Schella, herself, grew up surrounded by grandparents, aunts, uncles and cousins in Peterborough, Ontario, complete with family gatherings. For her, the importance of family ties is something she wants to pass on to her sons. The decision of a permanent location was between Ontario and New Zealand, but after spending a couple of winters back east, they chose Marshall's home town.
"It all happened serendipitously," Schella said. "Chris went there as a surprise for his dad's 70th birthday. It was supposed to be a quick week-long trip, but while he was there, a property came up. It is on the same road where his parents live and is a dream for the kids. It is on a five-acre parcel of land with a pond and trees"
In the meantime, Schella has received her permanent residency status, which allows her to do everything except vote and run for public office.
"We're getting all of our ducks in a row," she said. "It has been a very well thought out process and it is finally here."
As the executive director of Literacy Alberni for nearly four years, Schella said she is keeping her options open in terms of employment. She holds a degree in Journalism, Communications and English and has 20 years experience as an ESL teacher. She also owned a Teachers of English as a Second Language centre and her role at Literacy Alberni has immersed her in the non-profit sector.
"I anticipate working in the capital of Wellington, possibly within the government. Or, I could work as a freelancer. I am going with an open mind."
She said leaving Literacy Alberni will be one of the most difficult things.
"I feel privileged being there for the time I have," Schella said.
Before she was hired there, Schella volunteered as an ESL teacher when she came to Port Alberni 11 years ago. Five years ago, she set up the organization's Klitsa Tutoring program.
"I am sad to leave all of the special people, the learners, the staff, the volunteers and the board," she said. "But I feel good about where I'm leaving it and feel I've done what I can personally and professionally."
She will also miss the Francophone school that her children attended in Port Alberni, but will keep the language in the household as much as possible and looks forward to the new school.
"It is a big leap to a big public English curriculum in a new country," she said. "But it is close to the ocean and a sportsplex, so they will go swimming every week as part of the curriculum."
The other thing she leaves behind is the Fat Salmon Backpacker's Hostel, which the couple owned. They recently closed its doors for good and have converted the building to a four-plex with rental units.
She said they worked hard to put Port Alberni on the map through the bright accommodation and hopes someone with a similar vision will re-open the only backpacker's hostel in town.
Although excited about the future, it is always a bitter-sweet journey.
"We have all been so busy, but when I finally stop to think while I am packing, I get emotional about it all," Schella said. "But it is a good change."
You will be missed Charmead, Chris, Angus and Beck!