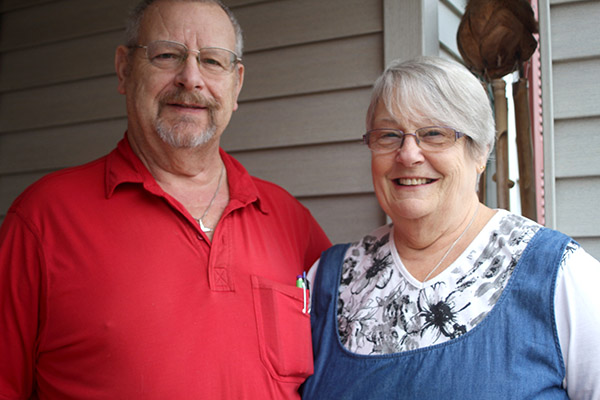 Bill and Margaret Groeneveld are proud of their longtime commitment to the local Legion.
November 8, 2016 - 6:50am
When Margaret Groeneveld (nee Fowlie) signed up as a member of the Royal Canadian Legion Branch #169 (now Branch #293) in 1990, she was following in a long-standing family tradition. She went one evening to play crib with her father and met Bill at the same time. Little did she know then that they would marry two years later, but since then, they have both been loyal Legionnaires, providing service and attending regular events.
Margaret's grandfather, Hugh Simpson Fowlie was a World War I vet whose name is on the first charter of the local Legion. Her father, James Alexander Fowlie, then served in World War II while her mother was a war bride. As Margaret was growing up, the family did not talk about the hardships of war because reliving those days hit too close to home. It was years later, when her mother was 90 years old, that she disclosed some of her memories.
"She only shared funny anecdotes, though," Margaret said.
As she grew up, Margaret remembers the legion as a "boys club" and a place where her father went to enjoy the camaraderie of his fellow vets. During the early days, Legion membership was open only to those who served. Membership quickly grew because the services, including support and financial assistance were necessary. She remembers feeling included in all of the family-oriented functions.
"In the 1940's and 50s, we used to go to big family dinners, picnics at Sproat Lake and Rathtrevor, parties and big dances," Margaret said.
When she came of age, Margaret's father encouraged her to join as an Associate member. At this time, membership expanded to include family because of the dwindling numbers. She waited until years later and joined in 1990, and has been a dedicated member since.
Margaret met her husband, Bill, at the Legion while attending a crib night with her father. Bill had joined the year prior and was the president of Branch #55. Born in Holland, Bill's father drove a truck during the war to deliver essential goods and his mother stayed at home to raise their seven children. The family immigrated to Port Alberni in 1953 because Bill's uncle was already living here and his father picked up a job at the mill.
Since Bill was raised on a farm, he naturally acquired a strong work ethic and started his working life in Port Alberni at the former potato farm on China Creek Road. He later completed an apprenticeship as an electrician and worked as both a steam engineer and electrician at the mill. In 1969, he joined the militia, finishing his duty with the rank of Sergeant.
"I was a driving instructor in town and trained on vehicles up to a 'deuce and a half'," Bill said.
He also attended exercises in the United States and various parts of Canada.
"I was fortunate that all of my military service was done during peace time," he added.
When he joined the Legion in 1989, he signed up for more than he bargained for. He was there attending a social crib night and when his game partner asked him, "Is this a go for crib?", another member asked at the same time if he would consider being the Legion's Sergeant at Arms. He said, "Yes" and both men accepted his answer.
Along with that role, in which he kept the peace and ensured rules and regulations were in order, Bill was the Legion Branch #55 president from 1998 to 1999 and again from 2003 to 2005.
Together, the couple have helped with many of the Legion's activities and events. Margaret is always helpful in the kitchen, and although not a member of the Ladies Auxiliary, helps cook some of the large, homemade dinners that are served at social functions.
The Groeneveld's will be two of the many familiar faces at Friday's Remembrance Day service at Glenwood Centre. Following the service will be an open house at the Legion at Victoria Quay for the public to meet local vets and find out more about becoming a member. Legion membership is open to everyone, regardless of family history with the organization, and seeks new faces to help with its mandate to serve local youth and senior citizens organizations.
The next social will be a fun auction on Nov. 18 with a fish and chip dinner from 4:30pm to 6:00pm and the auction to take place at 6:30pm.