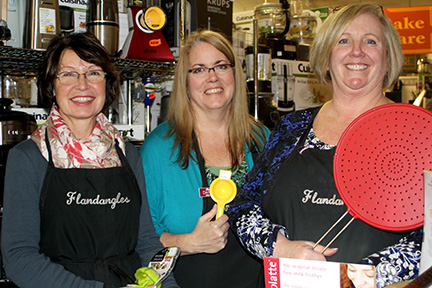 Staff Elena Dimitroff and Danielle Simpson, along with manager Chris Washington, have a lot in store for customers at Flandangles this month.
November 20, 2015 - 10:10am
Born and raised in Port Alberni, Chris Washington has recently filled big shoes at Flandangles. After the passing of owner, Anne Fleming earlier this month, she and her husband, Dan, purchased the well-known kitchen store and hope to pay tribute to Fleming by keeping the doors of the local business open. 
Until 2013, Chris was living in Comox, where she co-owned a travel agency. In January of that year, she returned to Port Alberni and was interested in trying something new. 
By August, she was presented with an exciting career opportunity. As a loyal customer of Flandangles for many years, she found out the store was looking for a new manager. 
"I applied knowing I had never managed retail before," Chris said. "I thought I could start at the bottom and work my way up." 
That is what happened when Anne hired Chris and took her under her wing. 
"I learned very quickly that I would fall in love with it," Chris said. "I think I was one of Anne's best customers and I have a kitchen full of gadgets." 
Anne, who passed away on Nov. 7, 2015 after a courageous battle with cancer, was the face of Flandangles for 27 years. She successfully ran the business, gained a loyal following and kept up on the latest trends in kitchenware. Not only committed to the business, she was a strong supporter of the community. 
"She knew everything there was to know and was very good about sharing her information," Chris remembers. "She was a tough boss, but a very good boss. She had high expectations, which was a good thing. (Retail) is a lot more detail-oriented than people realize." 
Chris said the job has been a huge learning curve, but she brings her passion to the position. 
"I consider myself a good, but basic cook," she said. "I have always loved to entertain with food. I just always thought I was meant to be a business owner and not just an employee."
Chris said Anne boosted her confidence by putting trust in her new employee from the start. 
"Last January she took me to a trade show and I have never seen anyone have such exhaustive energy," Chris said. "She was always go, go, go from morning to night." 
As her mentor, Chris learned that Anne was very aware of what she thought the local market would bear and found the best prices for her customers. 
"I absolutely love working with people and helping them find what they need," Chris said. "It is true in travel and in this business. Anne only always believed in quality and I saw the level of service she provided. I want to do the same and maybe even strive to do better." 
With her recent takeover as manager on Nov. 1, Chris intends to keep things at the store the same for the next while, and then include her own flair. In the midst of a busy holiday season, she is concentrating on customer service and upcoming in-store events.  
This weekend, through Sunday, is the annual Customer Appreciation Event with 25% off regular priced items and 10% off small appliances. 
During the neighbourhood Light-Up Night on Nov. 27, all items will be free of GST and PST, as well as the next day for Shop the Neighbourhood. Also on Nov. 28, Ron Lieberman will be in store for the Trudeau Event with demonstrations and samples.
On Dec. 5 and 12, Kerry Bisson, a local cake decorator, will be doing Christmas cakes and cupcakes from 1-3 pm.
Each Friday from Dec. 1 until Christmas, the store will be open until 8 p.m. and men's night is on Dec. 11.
After the holidays, Chris said customers will see small improvements to enhance service, including a new computer system that will email receipts.
"We will always be moving things around and adding new stock," she said. "I want to continue like Anne being cost-conscious." 
"The store is packed," she said. "Some people spend hours here to make sure they don't miss anything on the shelves. It's very exciting."
She said the amount of positive feedback from customers who are happy to see the store remain in the Valley has been inspiring.
A book is available to sign for friends and customers to share stories and memories of Anne. Chris hopes her legacy will live on in the store, the uptown area and in the community as a whole.