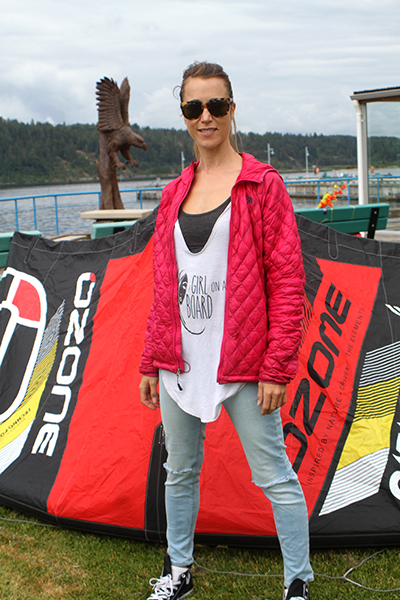 Nicole Eden is sharing her love of kiteboarding in Port Alberni with her school, Girlonaboard, at China Creek this summer.
Wind, water and warm weather. Those are the three things the sport of kiteboarding needs and what Port Alberni has. That is what brought Nicole Eden here with her kiteboard school and what took her away from the nine to five life of Vancouver.
Nicole was working in the city as an investment advisor in 2011 when she decided to follow her dream. She was new to the sport, but it was her adventurous spirit and love of nature that led the way.
"I was working with clients who kept saying they were waiting to retire to follow their dreams and travel," Nicole said. "I thought, 'Why not now?'. So, I quit my job, moved to Mexico and bought a kite school with a partner."
Then in 2014, she branched out on her own and launched Girlonaboard Kite School, debuting it in Mexico. She said the sport empowered her to take the chance and wants to do the same for others.
"I want to empower men and women for sport," she said. "It appears to be an extreme sport, but most people can learn in one day. I have taught a 70-year old and a 9-year old. It is like golf, you can do it for life."
For Nicole, it is what she gets out of it that drives her passion.
"It feels amazing," she said. "It is similar to flying. You feel weightless, you have a connection to nature and the ocean with your feet in the sand. It is meditative, relaxing and physical. It just makes me feel good."
Nicole completed her teacher training in 2011 with Greg Innes and Port Alberni resident, Alicia La Rue in Mexico. It was intensive and based on safety, wind and weather knowledge, equipment and kite skills. From there, she learned more about the opportunities in British Columbia.
"With kiting, we follow the wind," she said. "I asked Greg to tell me about every location on the Island."
She had no idea about Port Alberni, and moved her school here without testing the waters because she sensed the potential.
"This is the only place with really consistent winds," she said. "This is the best possible spot on the Island with the warm weather and wind."
The all-female led school teaches all levels and ages and is family-oriented. Lessons start out slow, but by the end of a 3-day, 6-hour session, Nicole said students will be equipped with everything they need to know. Day One is land-based, followed by practice on the water with the instructor side by side the next day. By Day Three, students are often up riding on their own.
"We have a vibe and culture that is so special that I think we get the best students," Nicole said. "Everyday I get to relive the excitement of getting on the board and see everyone overcome the first day realizing they can do it."
Girlonaboard Kite School runs all summer at China Creek until Nicole returns to Mexico to bring it all back there for the winter season.
"I hope to grow it and make Port Alberni the destination place where people come just for the wind," she said.
Nicole works and kites every day the wind blows, but when she isn't, she enjoys hiking the local trails, cycling and visiting Harbour Quay, where she said she has already tasted the best ice cream she has ever had.
For more information, and to take advantage of a special 2-for-1 intro package, go to www.girlonaboard.org.