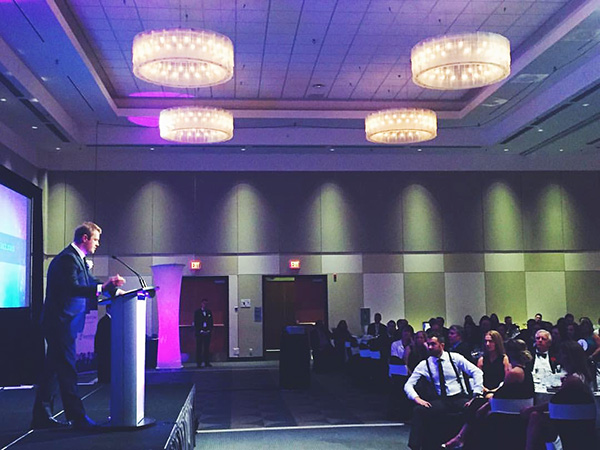 Zack Jones takes a minute to thank his friends, family and co-workers on Saturday when he won a Top 20 Under 40 award in Nanaimo.
Zack Jones brought home some hardware from the Top 20 Under 40 awards held in Nanaimo on Saturday night. Relatively new to Port Alberni, the Save-On Foods manager was surprised by the win, but for those who know him, and the contributions he has made to the community, the recognition was well-deserved. 
Zack moved to Port Alberni from White Rock in February 2015 for the career opportunity. It was about a year after the Overwaitea Food Group acquired the local Safeway store and the company just started celebrating its year-long 100th anniversary celebrations. 
Part of the requirements for nomination of a Top 20 Under 40 award, which recognizes contributions of young people on Vancouver Island, include demonstrating exemplary business results. Over the past year, Zack has been involved in the store's renovations and a number of community initiatives.
The expansion included a full-service meat counter and sushi bar, as well as a large seating area, complete with USB connections for work-on-the-go. It was all featured in December during a Christmas kick-off. There were in-store samples, gift baskets and draws that raised $1,200 for the Salvation Army. 
In the fall, the store partnered with the Alberni Valley Bulldogs and 93.3 The Peak and brought in more than $2,000 to help the ADSS Breakfast Club. The staff was also involved in the annual Raise-A-Reader campaign for Literacy Alberni that month. 
Last summer saw the culmination of the store's history at all of its locations in BC and Alberta. Over several months, a travelling roadshow made stops at each location as a showcase opportunity and customer appreciation event. 
"It was well-received in Port Alberni," Zack said. "We were able to share the history of the store from the start to where we are today. The hotdog sale raised $1,500 for the Bread of Life." 
He said it is important to give back to the community in which he lives.
"We all live and shop here," he said. "Some of the staff have been in the community for 35 years and went to school here. They are the first to lend a hand and I couldn't do it without them."
Last October, Zack played a bit part in the company's television commercial to promote party platters. 
"That was a unique experience," he said. "It was an all-day thing and was an eye-opener to see how much time goes into the different shots and lighting, all for a 15-second commercial." 
A second commercial was filmed which also featured his parents, sister and brother-in-law. The family's togetherness is not something new and the importance of it was ingrained at a young age.
"Growing up, family was the most important value," he said. "We are always there for each other. Now that we're older, we are always together at Christmas despite how busy we get." 
When he first arrived in town last year, Zack's first impression was an appreciation for the slower pace and laid-back lifestyle. He was also impressed with the friendliness of the locals. So far, none of that has changed. 
"I love this community," he said. "It is a nice refreshing change. The pace of life is slower and it is like a big family. Everyone says it is the community with a heart and it really is."
Not that he has slowed down. Zack quickly expanded his network of friends and business associates through active involvement in organizations. He joined the Young Professionals Alberni Valley after finding out about the then fledgling organization from its president, Jolleen Dick.
"Jolleen told me about how she was forming a group to help Port Alberni grow and give back," he said. "I thought it was an important way to give back and help the community." 
He has also been a part of the Civic Affairs Committee since last June. The group of business owners and managers help advise the City on various initiatives, from industrial trucks going through town to issues regarding marijuana dispensaries. 
"I got involved so I could help the city grow," he said. "I think coming with a grocery store perspective I can add another spin." 
At the Top 20 Under 40 awards gala on Saturday, Zack had the opportunity to wrap up his year in a brief thank you speech. 
"It was a humbling experience and I feel fortunate to represent Port Alberni," he said. "I thanked the team at Save-On because I couldn't do it without them, as well as (his partner) Kama and my family. They are my voice of reason and my sounding board. Really, the award belongs to all of them."