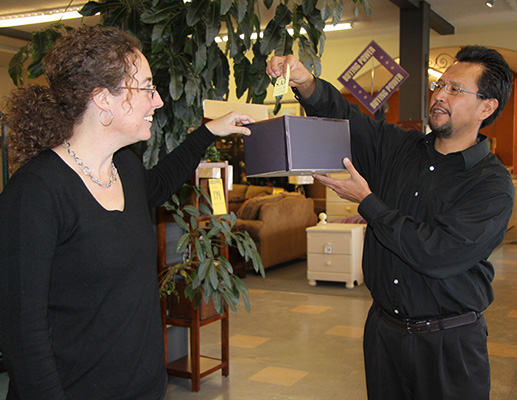 Like in the past, Jennifer will be pulling a few lucky winners to celebrate the store's 70th birthday.
Businesses that were built to last in Port Alberni have survived some turbulent times. There has been shifts in the economy, competition from the other side of the "hump" and changes in priorities from the "nice to have's" and "need to have's".
­­
This year, Jowsey's is celebrating its 70th year and store owner, Jennifer Norn, is inviting the community to celebrate with them.
In 1947, Jowsey's was opened by Jack and Aili Jowsey. At the time, it was a five and dime store, carrying school and sewing supplies and radios, among other necessary items. In the 1950's, the store brought in Maytag, a brand they still sell today.
The family business was carried on by current owner, Jennifer's parents, Frances and Brian Dodsworth. Jack Jowsey passed away when Jennifer was only seven years old, but she heard many stories of the businessman and how he treated customers.
"When we talked about how our day went, the store was always a main topic at the dinner table," Norn said. "My grandparents grew up through the depression so they were all about the community and helping their neighbours. My grampa used to fix everything he sold."
Jack offered in-store credit, so when newlyweds came in, he often let them leave with a pair of lamps or a refrigerator and allowed them pay over time.
"He was pretty friendly and easy with credit," Norn said. "I also heard stories about customers standing at the front windows watching the TV's when they were a novelty."
It is those kinds of stories Jennifer wants to hear today. All month, the store is accepting submissions from past and present customers and each person who submits their tale will be entered to win a $1,000 gift card. At the end of the month, the store will also give away a queen-sized Beauty Rest mattress set and a Serta adjustable bed.
When she and her husband took over the store in 1996, Jennifer's father stayed on for a year and from him, she learned everything she needed to know.
"I had to learn everything," she said. "He taught me about the margin wheel in retail and how to promote the business. He always said it was important to voice the radio ads myself so people get to know me."
She believes the secret to the long-term success is customer service.
"We are always pushing service," she said. "If something is out of warranty, we will still still service it. Anyone can offer low prices, but I think it is our service that stands out."
Jennifer said the best thing about heading the long-standing family business is feeling they have a permanent place in the community.
Tomorrow at 1:00 pm, Jennifer invites everyone to join Mayor Ruttan for the anniversary cake cutting, along with many past employees.