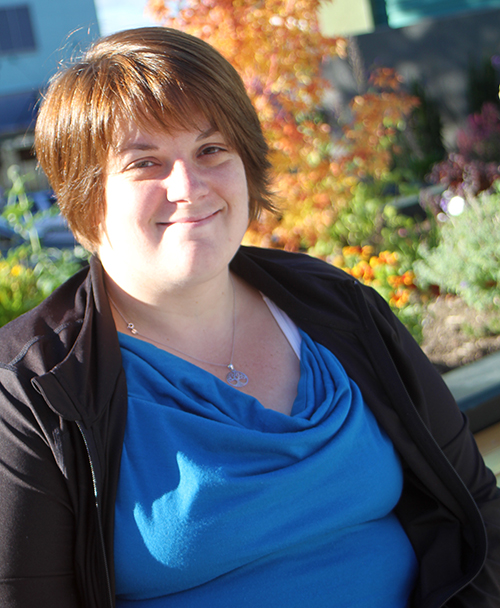 Jenny Fortin is well-rounded, enjoying everything from wild adventures to quiet family time.
October 11, 2016 - 10:28am
Usually seen behind the camera, local video journalist Jenny Fortin has a wide range of interests, skills and talents. One thing she is sure of is her passion for storytelling, something she developed at a young age.
Born and raised in Port Alberni, Jenny has called the Valley home for most of her life. She attended John Howitt Elementary, Mt. Klitsa Junior High and after graduating from ADSS in 2001, studied initially at North Island College. She moved to Victoria for two years to attain her diploma in Applied Communications from Camosun College. It was then that she took off into a career that rewards her with unique experiences and new people to meet every day.
It was in elementary school that Jenny realized what she wanted to do. She enjoyed language arts and writing.
"I knew I wanted to do some type of storytelling," Jenny said.
By junior high, she had the chance to take a journalism class and at the high school was involved with ABC News. At Camosun College, it all came together.
"The program was really hands on," she said. "I got a taste of publishing, writing, photography, videography and radio."
She said her career has changed who she is.
"I am a different person than I was 12 years ago," she said. "I used to be quiet. Not necessarily shy, but more observant. Now, I'm not afraid to talk to people. In fact, I probably talk too much."
Jenny was quickly hired as a video journalist to cover local events and activities and said the highlights are too many to list, but some that stand out include exploring Blak T cave, taking an all night fishing and research trip on stormy waters and flying in a Cessna over the Broken Group Islands.
"I have never been so seasick as on that fishing trip," she said. "We were on an open boat, hanging on. (Co-worker) Jose (Araujo) slipped and almost went in. But we did get a story out of it."
She said that some of the smaller stories are just as big when she has the opportunity to meet some of the incredible local people.
"I love it when I really connect with someone," she said. "There has been Donna James and Winston Joseph (to name a few). I mean, come on, these kind of people make the average story so much bigger and touch your heart."
Needless to say, Jenny enjoys adventure. It is something she makes sure to include in her free time and is often out walking the local trails, geocaching and hanging out at the local watering holes. She often does these things with family members in tow and is proud of her "aunt" status.
"Family is number one," she said. "My sisters and I are so close. I couldn't imagine life without them. There are my nieces and nephews and my dad lives in the Valley."
One of the most difficult times for Jenny was when her mother passed away a few years ago, but said it was the support around her that got her through.
"You don't realize how much so many people care," she said. "Being a part of this community, I even had random people come up to me willing to talk. It makes me really appreciate the community."
Jenny also appreciates nature and doing what she can to reduce her own carbon footprint. As an avid gardener, she reaped the rewards of her labour this year by growing six 12-foot tomato plants.
"I really like talking to the local farmers," she said. "They are so down to earth and passionate about what they do."
Jenny said she would be remiss to not mention her coworkers.
"I wouldn't have been so successful without their support," she said. "They are like another family."