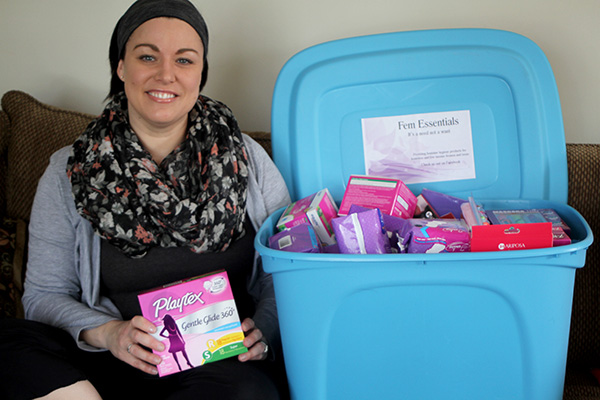 Melissa Turner is collecting feminine hygiene products and other items for less fortunate women in our community. A collection day is set for this Saturday from 11am-2pm at Fresh Steps Ability House.
The success of last year's Fem Essentials "Time of the Month" drive was enough to encourage Melissa Turner to continue it as an annual event. This Saturday she hopes to collect even more feminine products, hygiene items and other necessities for women in need and is already well on the way. 
When she came across a Facebook post last March about volunteers collecting such items to distribute in their community, she knew it was something that should be done in her hometown. She contacted the Alberni Community and Women's Services Society and was told feminine hygiene products are always in high demand.
"Right away I knew we had to do that here," she said. "I was totally nervous and wondered what kind of feedback I would get, but I did it from the trunk of my car in a park and brought my kids along. It was so much more than I imagined." 
That afternoon, Melissa collected six large totes with boxes of tampons, sanitary pads, new underwear and other small hygienic items. She brought them to ACAWS for staff to distribute to women in need and empty totes were left at various community locations to be filled with ongoing donations. That collection provided enough products to cover the year. Now known affectionately among friends and acquaintances as the "Pad Lady", Melissa receives donations on a regular basis at her home. As a result, she has amped up her goal.
"This year I am also collecting purses and items like chocolate, tea, make-up, socks and underwear to fill them with and will distribute them at Christmastime," she said. 
Melissa feels this collection is one thing she can do in Port Alberni and hopes a greater impact will follow with other communities doing the same. 
"This is a need, not a want," she said. "I can't imagine any woman on this planet having to go without these products. That breaks my heart. I just love our community, this is my home, and I want to support our wonderful community."
This year, Melissa has a more central drop-off location at Fresh Steps Ability House at 4457 Gertrude Street. Donors have been bringing items ahead of time and the collection is growing. On Wednesday, Melissa already had two totes filled with items and another overflowing with gently used and brand new purses. They can be dropped off on Saturday, April 16 from 11 am to 2 pm or purses and items to go inside can be saved over the year for the December distribution.
For more information, see the Facebook event page here.