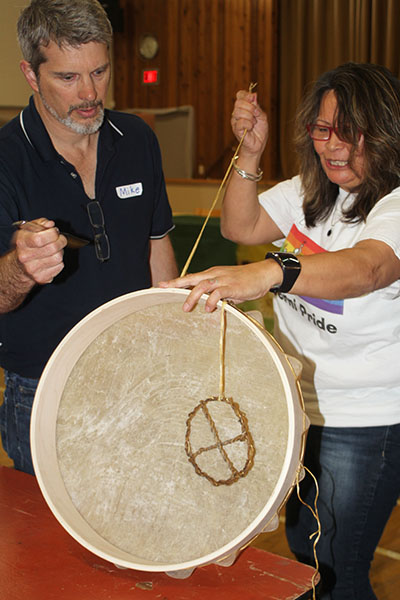 Deb Masso shows Mike Villette how to complete the final touches on a drum they made yesterday at the Alberni Valley United Church.
Drum making, storytelling and crafts, all with a First Nations theme, are taking place at the Alberni Valley United Church this week. It is all part of the Intergenerational Family Camp to raise awareness about and share the culture of Nuu-chah-nulth people. The church is an Affirming Ministry and one of the mandates is to bring about global understanding and education to the congregation, as well as to the community, and this is one of its several projects.
When Deb Masso was asked by Dana Walter, Affirming Ministry team member, to help lead the five-day camp, she did not hesitate.
"I think it is a stepping stone to creating awareness of First Nations culture," Masso said. "I think it is wonderful that the church is helping to make amends and build understanding."
Yesterday participants, who include children, parents and grandparents, made traditional drums, tasted bannock and learned the importance storytelling has had through First Nations history. Masso will tell a story from the same book during snack time through the week, with Friday culminating in each family presenting their own. She is reading Solomon's Tree, about a boy who spent days in a maple tree, learning life lessons from the animals and environment around him. After a storm took down the tree, he and his uncle made up a story together to keep the memory of the tree alive in his heart.
"The families will use animal puppets to create and tell their own stories," Masso said. "The First Nations people observed animals and learned life lessons, patience, love and tolerance from them."
Participants are also learning the language through visual scavenger hunts with both pictures and the English and Nuu-chah-nulth words. On Monday, they pulled letters and unscrambled them to form the phrase, "Everything is One". By the end of the week, they will do the same to form the Nuu-chah-nulth translation, Heshook-ish Tsawalk. During the week, they will have the chance to forage for traditional berries, play games and make cedar bracelets and roses.
Friday will end with a feast of salmon.
After just one day, Masso said the response has been encouraging.
"The kids, parents and grandparents all love the stories," she said. "We have had a very positive response."
Last year the Alberni Valley United Church held a summer week-long camp for kids on the autism spectrum and supported the Pride BBQ, which members are helping with again this year on July 23.