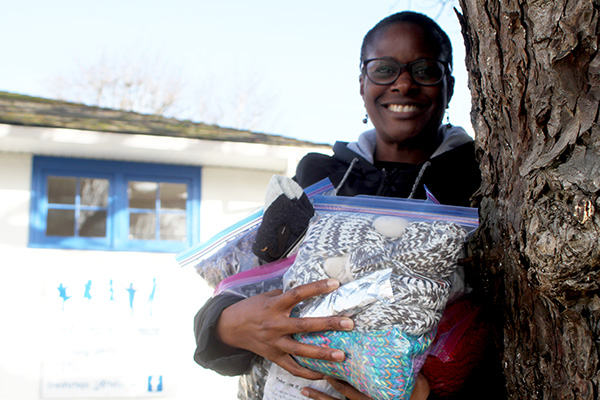 Janis Joseph, with an armful of donated scarves and hats, will be rehanging them on her own tree for those in need.
February 2, 2016 - 8:02am
When Janis Joseph received a call from her mother letting her know that a large garbage bag of scarves, toques and mitts had been dropped off on her lawn last week, she was happy to accept what she thought was more donations to help a worthy project. On Sunday, though, Janis realized it was not a donation, but rather a return of items meant for the less fortunate.
"I was shocked to open the bag and see that they were items we had collected," Janis said. 
On one of wettest Saturdays in December, a group of volunteers gathered at Janis' Fresh Steps Ability House with a collection of warm accessories, packaged with a treat and a note that read, "Take me if you need me." The group, ranging from children to seniors, headed out with bags full of the packages to post on uptown trees, intended to be free for the taking. Instead, the majority were taken down before anyone had the chance to take one.
"Here we were with our kids on a very cold, wet day," she said. "We could have waited until a nice day but we did it together like we had seen in other cities and we believed the community with a heart would embrace it. Somebody obviously didn't think it was a good idea, so it was very disheartening." 
Similar successful initiatives took place in Courtenay and Victoria last November, so the group decided to take it on locally. Despite an email to the city requesting permission for the project one month prior, it went unanswered. 
Within two days, all of the zip-locked bags were removed from the trees on upper Third Avenue, and the group assumed they were claimed by those who needed them.
"I honestly didn't think we would need permission to help community members," Janis said. "I would just like the person who did it to come forward to have a conversation to find out why they did it and to see how we can do it better next year."
All of the items were either purchased or donated and about 20 to 30 were specifically hand-knit by a volunteer. Students from A.W. Neill also contributed about 50 warm scarves, hats and gloves. 
"It is a sad commentary on a small part of the community that didn't get the message," Janis said. 
Janis is hanging the returned packages on her own large tree outside of the Ability House on Gertrude Street this week. 
"I don't want the kids to think this is the end, so they will be hung on this tree for any community members that need them," Janis said. "My big thing is, I'm not giving up on the good." 
The group intends to continue the effort next year to help keep the community warm and invites any feedback to help make it a success.