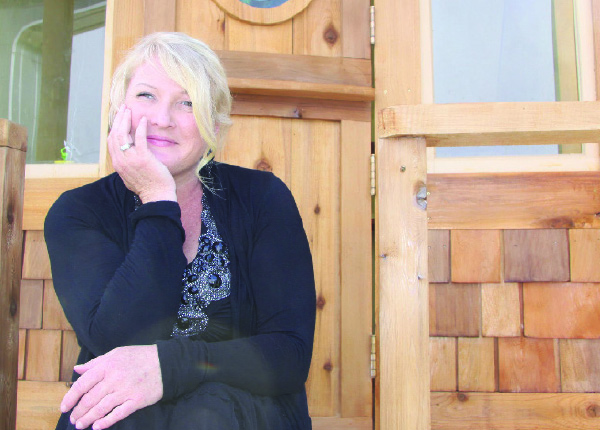 Gretchen Carlson came full circle when she landed her position as executive director at the Alberni Valley Hospice Society.
February 23, 2016 - 6:44am
Do you know what your end-of-life wishes are? More important, do your family members know? It might not be something you want to discuss, but Gretchen Carlson wants to open up the conversation. She, along with Alberni Valley Hospice volunteers, is making it easy to do so with free Advanced Care Planning workshops. 
Gretchen has a passion for residents at Ty Watson House and for helping families caring for loved ones in palliative care. Raised during the hippy era in California, she has experienced both the remote countryside and the big city life over the years. Along with her compassion and desire to help others, Gretchen made her way to Port Alberni, where she feels she has come full circle.
Gretchen's parents were academics and the family lived in university housing. Along with her elder sister, she remembers her California lifestyle as being free-spirited and full of childhood adventure. 
"It was a time when we would jump on our bikes and didn't have to come back until dinner," she said. "We would take a big bag of Cheerios and fish all day for koi in the university pond. We had a fort, tree house and orange, tangerine, lemon and limes trees all around."
Although considered a poor family, Gretchen knew no different - until one day. 
"My mom lost it when she couldn't find the weekly food budget of $40," she said. "I ended up finding the two twenties in the recycling bin but that was when I realized we lived on peanuts."
To make ends meet, Gretchen's mother volunteered with the school lunch program and a summer camp so her children would not have to go without. She was an artistic individual with a relaxed personality.
Her father, a highly intelligent forestry geneticist, accepted an opportunity with the B.C. Forest Service when Gretchen was 14. They packed up a van with their cats and dogs and headed to Vernon. There, her parents were able to purchase their first home with a yard.
Although it was a rough start for Gretchen in her new surroundings, things got better. After graduating from high school, she headed to Whitehorse by bus with $58 in her pocket. She worked a myriad of jobs to get by and studied criminal law before moving to Vancouver to further her educational horizon with landscape architecture and interior design. 
Another move, this time to the Kootenays to care for her aging grandmother, exposed Gretchen to the world of dementia. 
"I cared for her until her passing and that was my shoe-in to get into nursing," she said.  
She worked in a private home while attending hospice training and then acquired positions in various areas of the hospital. By the time she was offered the executive director position at the Alberni Valley Hospice almost two years ago, she knew she found her place in Port Alberni.
Gretchen now wants to use her past experience to encourage others to think about their futures. The hospice society held its first Advance Care Planning workshop last fall and the response was so positive that additional workshops were added this year. Chris Mellin, Ty Watson House manager, attended, and said the information she received gave her the confidence she needed to put her wishes into writing. 
"It was fabulous," Chris said. "The consensus of the group was that we didn't realize how important it is to express our wishes."
The two-hour workshop is broken down into manageable pieces. During the first part, a facilitator explains why final wishes should be documented and the second part is more hands-on. A workbook is provided, which Chris said could be overwhelming without the support. 
"It can be intimidating but it boils down to just two sections in the book," she said. "It is all explained and very worthwhile." 
Gretchen said it also puts family members at ease. Starting a dialogue before it is too late avoids any conflict or loss of specific details during a stressful time, she said. 
There are still spots available for the workshop on Feb. 29 at the Integrated Health Network, but anyone interested is encouraged to call the hospice at 250-723-4478. Additional workshops are scheduled for April 4, May 9 and June 6.