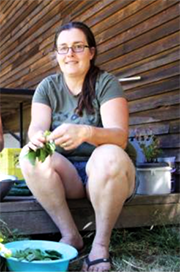 Anna Lewis is used to spending her summers outside getting veggies ready for Port Alberni consumers.
Although she is getting a late start herself, Anna Lewis is happy with the launch of the official first week of sales and the vegetable box program out of Healthy Harvest Farm. Located just off of Beaver Creek Road across from Coop, the locally grown venture is a win-win situation for everyone involved.
The most recent addition the the property is a fence that was constructed around the entire perimeter, thanks to a youth work crew. The Canadian Mental Health Association and INEO Employment were successfully granted funding to hire eight youth who have been working on the property for the past six months. They also built a greenhouse and a wash station at the Hupacasath community garden on the same site.
"This gave the youth experience in building and working on a farm and helped both sites," Anna said. "It was a win-win for all parties."
The produce is starting to pop up and workers are currently maintaining the garden beds and harvesting all that is ready. This week marks the first of the box program and the bounty is expected to change each week. This week, each order contains an abundance of lettuce, mixed greens, garlic scape, kale, oregano, mint, turnips, rhubarb, and beets. There is only one size available but Anna suggests sharing the cost and goods with someone else.
"We also have online sales, so and email will go out on Sunday or Monday and people can put their orders in by Tuesday," she said. "They will be available for pick-up between Wednesday and Friday. Then we will be opening our farm gate stand next week."
Things are ramping up and soon the community will have access to a wide variety of produce. Three new hires will help keep up with demand as the growing season reaches its peak.
"Having access to three people is super exciting," Anna said. "It has been really great to get them and it is a good opportunity for anyone interested in agriculture to get a good base."
Anna also recently came across a community voting contest that, if won, would be an additional help to many members of Port Alberni.
"I got the email and the deadline to apply was the next day, but the application looked simple so I sent it in," she said. "The idea is to match any farm or community garden trying to work with food security with a program which gets food into the community."
Anna's plan is to assist the Canadian Mental Health Association with their food outreach. The organization offers members a daily lunch for one dollar and has a frozen meals program.
"Some of the members are bound on 600-odd dollars a month, so these programs are a big help," Anna said. "If we won, we would design part of the garden specifically for growing for their programs and since we are all on limited budgets, again, it is a win-win situation."
The winning community would receive $15,000.
"You can not imagine how much $15,000 would help," Anna said. "Right now we are cutting up old bike tubes to tie tomatoes to stakes because we can't afford clips, but you do what you can."
Voting ends July 7 and can be done daily here.