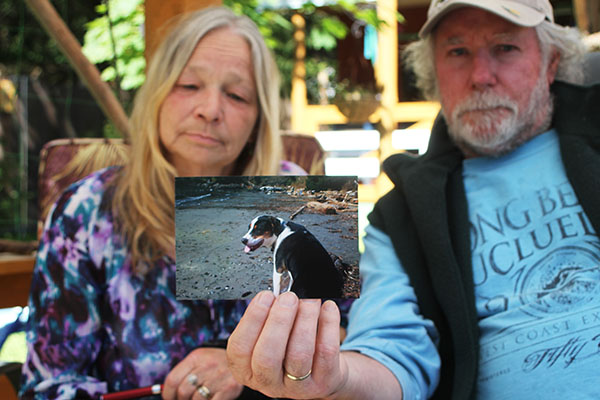 Lorraine and Victor Kimola remember their dog, Azna, after she was recently put down when she contracted Cryptococcosis from a Qualicum beach.
A week ago Friday, Lorraine and Victor Kimola lost their beloved dog, Azna, to something they feel could have been prevented. Still heartbroken, the two are hoping to raise awareness so other pet owners do not have to suffer the same type of tragedy.
About three weeks ago, the Kimola's went to Qualicum to do some shopping and since it was a nice day, stopped at the beach to let Azna run. Within a week, pitbull mastiff cross was showing signs of illness. She had contracted Cryptococcosis, an infection caused by the Cryptococcus fungus. The disease typically affects the respiratory system in people and animals after it is inhaled.
"We took her to the vet and thought it was allergies," Lorraine said. "Her nose became congested and she was huffing and puffing through her mouth and couldn't breath. She was given a steroid that lowered her immune system."
Azna also lost her sight and by last Friday her condition was worsening.
That night, the two took Azna to Nanaimo since there are no emergency off-hours clinics in Port Alberni, where they decided to put her down.
For the Kimola's, it was a heart wrenching process and they went through three different vets to find answers.
"It was so sudden and mysterious," Lorraine said. "The general consensus was that it was Cryptococcosis. We are not blaming the vets, because they just don't have the information," Lorraine said.
After the story aired on CHEK News, Dr. Angela Damant from the Alberni Veterinary Clinic, replied to Facebook comments from concerned residents.
"Unfortunately I cannot confirm or deny whether I saw such patient due to veterinary-client confidentiality," Damant wrote in an email. "We do regularly test and treat for this unfortunate condition and it is very rare."
She wrote that most veterinarians run blood tests if they suspect the infection is present.
"Second, it is treatable," Damant posted on the CHEK News Facebook page. "The only reason to euthanize a dog or pet with this infection is if the owner cannot afford to treat or if the animal is not responsive to treatment which rarely occurs. It can be an expensive and long term treatment and sometimes pets are already too sick with the infection for effective treatment as well."
The Kimola's have since taken to the Internet to learn more about the infection and to raise awareness. They feel the information should be made public if there is risk where people take their animals.
"There are signs at the beach warning about shellfish, but not about this spore," Lorraine said. "It is not brand new, but it is not talked about. I don't know what will happen but I just want more awareness so people have a choice. If we knew, we wouldn't have gone to the beach."
She said she wonders if the Oceanside area does not want to risk scaring tourists away.
"I would like to see a vaccine made to prevent this," Victor added.
Lorraine said she has since seen others on Facebook whose animals have gone through the same illness and that the disease appears prevalent on Vancouver Island.
As the couple's only dog at the time, the Kimola's adopted Azna at eight weeks and brought the rescued pitbull mastiff to their Cherry Creek home.
"We raised her from a pup," Victor said. "We took her to the dog park so she could run, jump and play. She was always playful and never aggressive to kids. If there was a vaccine, then everyone could play on the beach with their dogs and not have to worry about it."