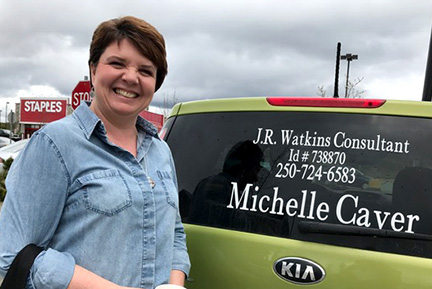 Anyone who knows Michelle Cayer knows she is not one to sit around long. The Port Alberni resident likes to keep her life busy and she always has something on the go. One consistent trait throughout her life has been her desire to work hard for what she wants.
Michelle's roots go back to the farm on Saskatchewan. Both of her parents lived and worked on the prairies before heading West in search of work. When they arrived in Port Alberni, Michelle's father started out at APD mill before heading to work in the bush with MacMillan Bloedel. Her mother primarily raised the children, including Michelle's brother, Curtis, and also taught ceramics on the side.
Michelle attended John Howitt Elementary, Mt. Klitsa Jr. High, and ADSS. She was highly influenced by her mom who passed on her life skills and crafting techniques. Right after ADSS, Michelle went to Saskatchewan for one year to work as a flagger. It wasn't long before the west coast called her back.
Over the course of twenty years, Michelle waitressed in a variety of restaurants. She did that for six years in Nanaimo but chose Port Alberni as a permanent home because of the affordability. During this time, she was raising two children as a single mother and said it was a challenging time.
"Looking back, I wonder how I did it," Michelle said. "I had little money and education so it was a rough go."
She said she got through with the help of her stubborn and never-give-up personality. Her mom also helped her out by looking after the kids while Michelle worked to make a living. Like her own mother, she passes on similar advice to her own son and daughter.
"The main thing they need to know is that nothing is free," she said. "You have to work for it. No matter what job you are doing, you have to put everything into it. My parents had to work hard on the farm to get what they wanted."
In between waitressing jobs, Michelle returned to school to complete her office administration training. That helped her get her current job in the field as a bookkeeper at LA Marine. In the meantime, she also met Ken, and the two officially said their vows two years ago.
"His oldest son became a dad and to make sure he wasn't confused about who I was, we decided to make things legal," she said. "We went to Vegas and that's what we did."
Ken worked with the family business, LC Trucking for many years, and after his parent's retirement, joined Rayner and Bracht. When they are not busy with work, the two like to spend time in their cabin at Great Central Lake.
While working a 40-hour week, Michelle makes time for sewing and crafting things like soy candles but recently came across the world of direct sales. She was online and came across an ad for Watkins.
"I flipped through the product catalogue and received some things that I remember from my grandmother's home," she said. "I found out some of the best sellers are those old home remedies."
Soon Michelle signed up and started selling the products at local events and the Port Alberni Farmers' Market in Cherry Creek. Knowing it was often difficult to get the word out, she also wanted to help others with similar home businesses and created a networking group. The Port Alberni Dinner Club meets once a month to talk about their products, socialize, and share upcoming events.
Michelle finds the best tool is social media, although the old school rules of face-to-face and word of mouth still apply. She has a number of pages on Facebook but one to start with if you want to connect with her is here.
Or, see her at the Farmers Market as the season kicks into high gear. It will be one place to be certain to catch her sitting down.
"I don't like down time," she said. "I am always looking for the next thing to do."