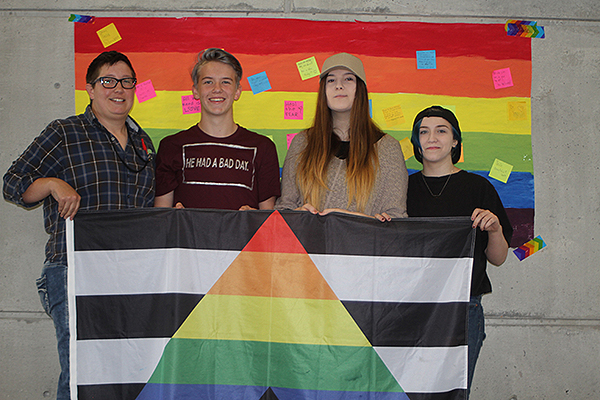 Members of the Gay Straight Alliance at ADSS invite everyone out to Saturday's fundraiser for the main event, the Pride BBQ in July.
The Gay Straight Alliance (GSA) at Alberni District Secondary School had a busy June, and recognize the significance as Pride Month. The group was formed in September to provide a place for support and a safe environment. Open to all students regardless of sexual orientation, the group's numbers started out slow, but there are now up to forty people involved.
It helps that they have a teacher and role model who understands what they are going through. Tricia Hartman was born and raised in Port Alberni and grew up strictly Catholic. She knew from a young age that she was different from her friends but felt unable to come out until moving away after graduating from ADSS. When she returned to Port Alberni and started teaching in the school district ten years ago, she came out to her students.
"We were married three years ago and five and a half years ago we had our first child, so I couldn't be closeted anymore," Tricia said. "In high school I had self-harming thoughts and there was no support group."
When she came out to her friends, she said it happened naturally. She said the most difficult part was dealing with the guilt and shame, especially since she originally intended to be involved with the church for a career.
The first major project for the group is the upcoming Pride BBQ. Set for July 23, they have a big family-oriented event planned with free food, entertainment, face painting and activities. It is a way to continue the momentum from last years' successful event and promote acceptance.
Tricia plans to use it as a catalyst for an even bigger picture. She is working with the Alberni Valley United Church to have a permanent meeting place for the group and extend it to the public. Designated recently as an Affirming Ministry, one of the mandates of the AVUC is to provide such meeting space.
"The big thing is to get these supports happening and make them sustainable because right now there are no meeting places for others in the community," Tricia said.
To make the Pride BBQ a success, the group has been fundraising. They had a movie night, but it was the dunk tank at the school earlier this month that gained more awareness that support is necessary. It took place the day after the tragic shooting in the Orlando night club, Pulse, and students were affected.
"The day it happened, I knew students would be upset, so I asked for support," Tricia said. "We were given the Elder's Room and I had a (teacher on call) so I could be with the students all day."
Reaction from the school turned the tragedy into a positive. About 300 people attended the fundraiser the following day and $250 was raised.
Tricia and fellow students are encouraged by policies set by the school district, which are designed to support, educate and provide a safe environment for the LGTBQ community, but also feel more can be done. They all agree the policies require stricter enforcement.
"There are six keys for one gender-neutral bathroom, but there are more than six people who want to use it," Tricia said. "So they recognize a need, but the problem is, it is locked so students first have to come out to be able to get a key."
The group is hoping for a large attendance at the next fundraiser, a movie night, on Saturday, June 25. It takes place at the Alberni Valley United Church and before the movie, Finding Nemo, there will be a barbeque and bottle drive. Bottles can also be dropped off for their account at the depot. Doors open at 5:30 p.m. with all funds going towards the main event in July.
"My hopes for this year is just to celebrate the diversity within our community," Tricia said. "The more we do, the more acceptance there will be." 
For more information, check out the website at albernipride.org or call/text Tricia at 250-735-1141.