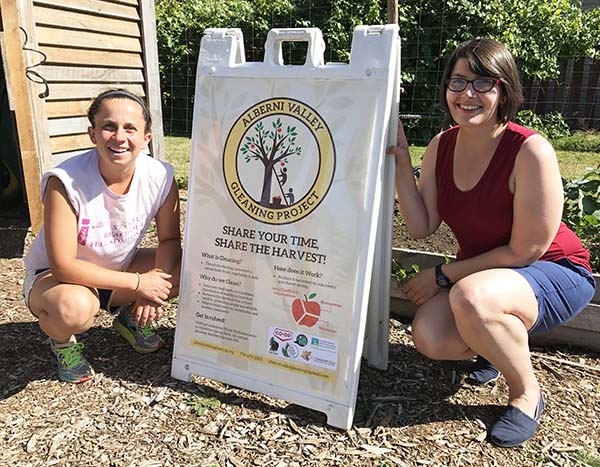 Emelie Comtois and Emma Lavery are ready to put volunteers to work picking abundant fruit all summer.
The area's wet winter made for a late start, but now berries are ripening, apples are growing, and there will soon be an explosion of abundant fruit. That is why the Alberni Valley Gleaning Project is set to help homeowners share their bounty with the community and give volunteers some meaningful and active work experience.
Two students have been hired to run and promote the project and they both feel it is a beneficial way to share the positive impact of locally grown produce.
Emma Lavery is originally from Port Alberni and after graduating from ADSS, attended VIU before transferring to UVIC to achieve her Bachelor of Psychology and Anthropology. Although unsure of her future plans, Emma is keeping her options open and hopes to work with her love of children and youth or the great outdoors. She has been working behind the scenes on the Gleaning Project's website and resource materials.
"I didn't know about the Gleaning Project before I started and was surprised it has been around since 2012," she said. "So now we're doing more marketing and spreading the word about what we do. We will be out in the community more."
What the Gleaning Project does is help reduce the waste of fallen fruit, increase the distribution of nutritious food to those who need and want it, and deter wildlife from entering residential areas. Volunteers are added to picks of their choice and the fruit collected is split between them, the homeowner, and a community organization.
That is where Emelie Comtois comes in. She is the new Pick Coordinator and can match up homeowners who have too much fruit to use themselves with willing volunteers. Emilie grew up in Ontario and moved to Nanaimo to attend VIU last year. With only one semester left, she hopes to go into teaching. In January she was offered her practicum position in Port Alberni and decided to stay through the summer. Splitting her time between the CMHA Healthy Harvest Farm and office hours, she said she loves the concept of the program.
"It gets people outside and puts fruit to use instead of being wasteful," she said. "It promotes supporting the local environment and businesses and connects people with the community by gathering and sharing."
"It really promotes community health in general," Emma said. "We encourage cycling to the sites, plus you get exercise while picking and then after can enjoy local nutritious food."
After two orientation sessions in May, the two, along with volunteers, are ready to head out on the first berry pick on July 6. It is also an opportunity for new volunteers or homeowners to find out how they can get involved. Signing up ahead of time is required by emailing albernivalleygleaning@gmail.com. There are also online forms and more information at www.albernivalleygleaning.org.