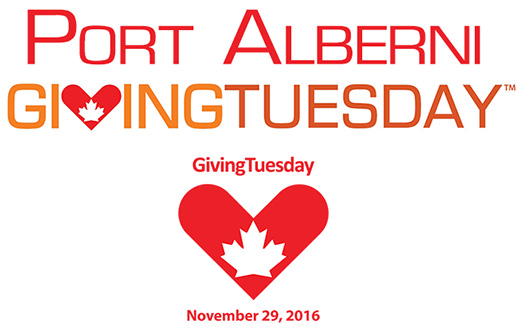 November 29, 2016 - 10:31am
A few local organizations are making it easy to help community causes for today's GivingTuesday event. GivingTuesday is an American initiative that was launched following the shopping frenzy of Black Friday and Cyber Monday, but has been embraced by Canadians. For the first time in Port Alberni, Literacy Alberni and the Alberni Valley Hospice Society have partnered up to present an awareness and donation drive opportunity for the public.
"Our main focus is to create an opportunity for people to become aware of easy ways they can donate without having to contribute financially," said Literacy Alberni's executive director Graham Hughes.
Hughes, along with his peer in the non-profit community, Blair McCulley from the Alberni Valley Hospice Society, have been aware of the event for a few years and took time this year to coordinate something that would benefit the local community.
"This is our first time but we hope to make it an annual event," Hughes said. "We just hope to increase awareness of the ability to give to the organizations simply and easily."
Rather than looking strictly for cash donations, a few organizations will be on display at Char's Landing Tuesday, Nov. 29 to accept necessary items and provide information about their services.
The Hospice Society benefits from the public's donations of Quality Foods points and Canadian Tire money to help the sustainability and operation of the kitchen at Ty Watson House.
Literacy Alberni is collecting gently used books to keep the little libraries full, including the new free library at Steam Punk Café. The society is also looking for old computers that are refurbished onsite by volunteers. By fixing the computers, the organization generates about $10,000 per year to maintain their literacy programs and activism.
The Alberni Community and Women's Services Society assist women in need by providing outreach services. They are looking for donations of essential items like toiletries, clothing, household items and non-perishable food.
The Alberni Valley Pride Society has an ongoing fundraising bottle drive with an account (#157) at the bottle depot and will be available to answer questions and let people know of the group's mission and current projects.
Representatives from the Port Alberni Association for Community Living will also be there to spread the word about their organization and accept gently used clothing. Proceeds will go towards the Pathways Program.
Hughes said the day will be a good chance to meet some of the people behind the names of these organizations.
"It is a way to celebrate the hard work being done by all of these non-profits," he said.
There are also prizes to be won. Those dropping by to learn more and/or donate can enter to win a family pass to Western Speedway, gift certificates from Pete's Mountain Meats and Archie's Hairstyling, or a one-night stay at the Coast Bastion Hotel.
It all takes place at Char's Landing until 2 p.m.