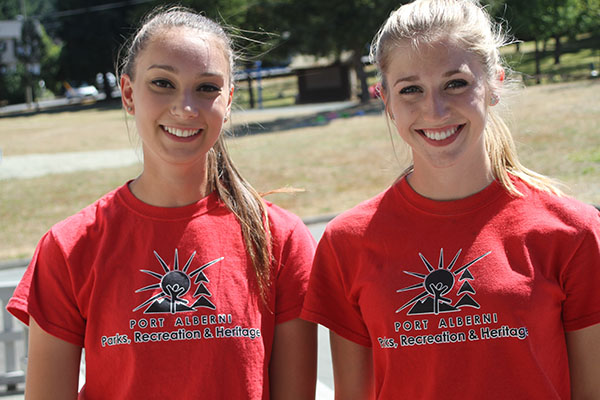 Jessica Gilchrist and Shannon White can be seen having fun with local kids at the parks all summer.
Kids in the Valley have been enjoying outdoor fun all summer and there is still a lot more to take in at the local parks. The staff at Parks and Rec have been providing families with activities and a chance to learn something new while on summer vacation and this year the parks program has expanded to more neighbourhoods.
Held in Gyro Park from Tuesday to Thursday, the free playground program has been a hit. It helps that the leaders love their summer job. Jessica Gilchrist, fifth year university student at VIU, is working as a parks leader for the first time and said the experience matches her future goals.
"I would love to work in recreation programming so this is right up my alley," Gilchrist said. "I love kids and helping to get people physically active since that is a main component of a healthy lifestyle."
Co-worker Shannon White is in her second year as a summer worker and hopes to be a doctor, specializing in pediatrics.
"I love getting to know all of the kids and their personalities," White said.
The two also have the help of high school volunteers who are gaining work experience and volunteer hours.
New this year is a special Mobile Playground Program on Fridays. Every Friday until August 26,  a van packed with balls, toys and various craft supplies will be parked at a different park.
"We wanted to bring different neighbourhoods into the program so more kids have the opportunity to be a part of it," Shannon said.
This week the theme is Under the Sea and kids only have today left to experience it. The van will be parked at Williamson Park from 10am to 4pm and the water park will be turned on to beat the heat.
Kids aged five to 11 are free to drop in all day through the week and are asked to pack a lunch if they intend to stay during lunchtime.
On Saturdays the fun takes place at Harbour Quay from 9:30 a.m. to 3 p.m.
"We have been busy all summer," White said. "The kids get to meet a lot of new friends and they all call it their summer camp. They really like it and call us their teacher. I think they like having the same routine."