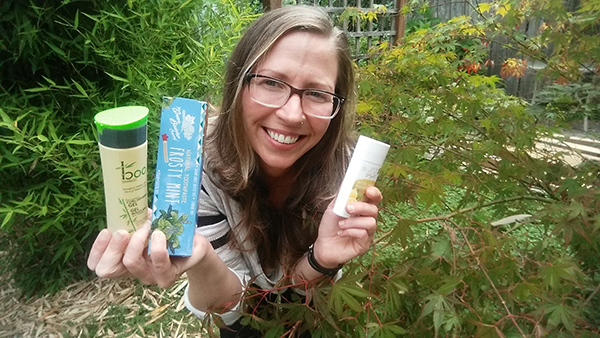 Susan Fox has only until the end of the month to make a profit from her online store, a short-term project that was initiated by her team at Royal Roads as part of their studies.
Susan Fox, administrator of the Kiwanis Hilton Children Centre has been working towards her Bachelor of Commerce in Entrepreneurial Management degree at Royal Roads. With only six months until completion, she hopes to share her knowledge of entrepreneurship for the greater good, on both a global and local level.
Throughout the program, students have been blending theory into practice and have been required to launch challenges and projects along the way. Susan's current project, along with her group of four peers, is an online store featuring environmentally-friendly hygiene products. They were given one week to design an e- store with a budget of $125 and can only use the month of August to sell the products.
The products, from various Canadian companies, were researched based on ethical criteria.
"All the companies met our screening of what we decided was important," Susan said.
One company, Green Beaver, still uses plastic for packaging, but because the products are sourced in Canada, the group gave them a passing grade.
"They contain organic and locally-sourced ingredients," Susan said. "The lavender is even collected from a farm close to the plant. The containers are BPA-free and completely recyclable."
Their other company, Blue Bamboo, fell short in some of the criteria because it gave no transparent information on where the bamboo comes from.
"We hope it is from Canada, but if it is coming in container ships, that is bad," Susan said. "There is a lot of green-washing out there, and we want to know who pays the price and if they are made by workers in poor conditions. Or if they are coming on container ships, where is the effluent going? Is someone's drinking water being affected?"
That is where the charity comes in. All of the profits of the sales will go to the charity, Ryan's Well. Ryan Hreljac, now an adult, was struck at the age of six when he learned that some people in other countries go without clean drinking water and basic hygiene. He sprung into action by raising money for the construction of a well in Uganda. It snowballed from there. The charity aligns well to the project's goal, as all members of the team believe that "basic hygiene and access to clean water is a basic right that everyone should have," Susan said.
Susan's ultimate goal is to use her skills and knowledge in social enterprise to work with the business and nonprofit communities. She understands the struggles charities face in today's world of tight budgets and limited staff, making fundraising difficult.
"I want to see how we can help charities take control of fundraising and be more self-directed," she said. "I also want to come up with an incubation lab where we would have dynamic thinking processes and help people be creative. People think navigating the maze of entrepreneurship is difficult but anyone can do it if you do your research and know your market." 
For more information, check out the website.