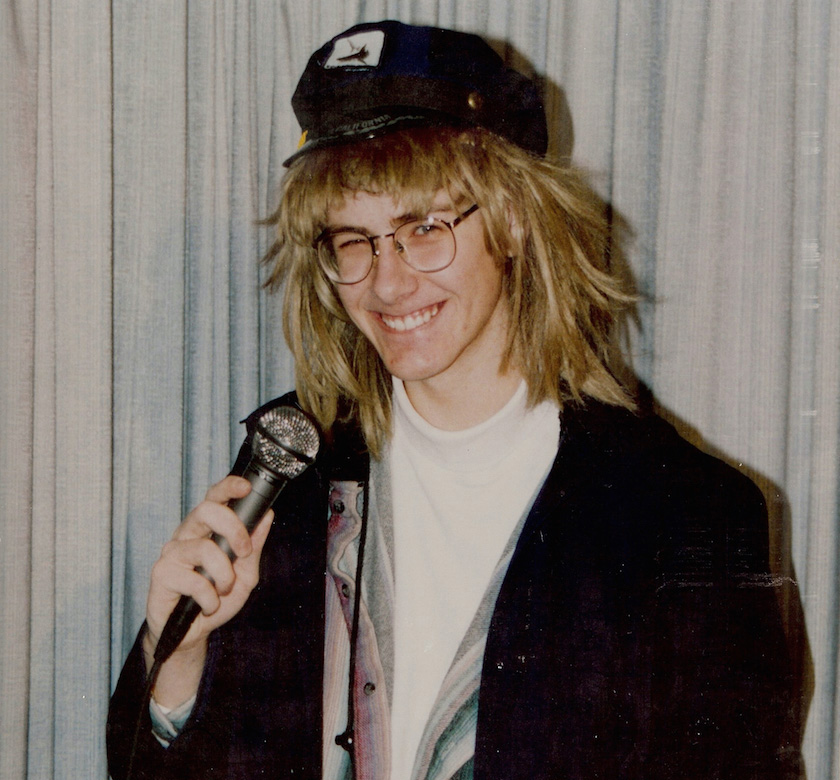 ADSS Grad of '94, Paul Boyd got his start in front of the screen as Fire Marshall Paul with his media class that produced the daily morning television announcements.
December 18, 2015 - 7:02am
Although he went from small town boy to a journalist on the world renown Inside Edition in New York City, Paul Boyd has always remained true to his roots. Currently living in North Carolina, Paul dug deep into the trenches of his digital scrapbook to present a holiday countdown for Port Alberni, especially his ADSS Class of '94. 
While he was at ADSS, Paul excelled in the media studies class and was one of the team players on the morning video announcements, ABC News. It was there that he got his start in broadcast journalism and the desire to share stories. More importantly, he ensured he started every student's day with a laugh. 
On Sunday, Paul launched the Twelve Days of High School Videos on his Facebook page, highlighting a dozen of the most popular skits. It is a project that is bringing back memories for his fellow former peers, most of whom have not seen the videos in more than twenty years. Some of the characters revisited have been Fire Marshall Paul and the Fly Girls from the 1990s show, In Living Colour. 
"I've had a stack of VHS video tapes from high school sitting in my attic for too long and I decided it was finally time to digitize them for my kids to see," Paul said. "Well, I laughed so hard and saw so many of my old friends, I decided I needed to share the videos on Facebook and YouTube with everyone. That's how the 'The Twelve Days of High School Videos' was born. It's also an amusing spin on the "12 Days of Christmas" – so the timing worked out well." 
Paul said the encouragement and support from his teachers helped with his decision of a future career in journalism.
"We really had so much fun learning about television production in school because of the energy and enthusiasm from our teachers Geoff Stubbs and Kerry Robertson," he said. "Their passion rubbed off on all of the students and made school a lot more exciting for us. We literally produced a television show every morning. It was real, hands on-experience you can't learn from a text book. And I'm so thankful and appreciative of the foundation ADSS gave me to launch a career in broadcast journalism."
Almost 15 years ago, Paul was hired on with Inside Edition and was one of the reporters covering some of the top international stories. He reported from "ground zero" at the onset of the 9/11 attacks, spent months in Iraq covering the war in 2003, as well as in Afghanistan during the hunt for bin Laden. He was also on scene during hurricanes Katrina and Sandy.
When the station was hit with economic pressures in 2014, Paul was asked to take a significant pay cut. Instead, he decided to take a risk and launched an innovative online business in order to spend more time with his family. He successfully sold the business the following year and is now considering his options for the future. 
"I am very fortunate that I don't need to rush into whatever comes next," he said. "My focus right now is 100 per cent on my family and doing my best to raise my two young boys as respectful southern gentlemen!"
Although he enjoyed living in New York, Paul said it was a time for a slower pace and smaller hometown, so the family moved to Charlotte, North Carolina last year. 
"Even though I've lived in America since 2001 and became a US citizen in 2010, I'm very proud of my roots in Canada and Port Alberni. That will never change!"
Some of the biggest changes he has experienced, though, is in the industry itself.
"The biggest laugh looking at some of the videos is just how big the changes have been in technology over the past 20-years," he said. "The video quality isn't the greatest and we actually had pretty cutting edge VHS cameras at ADSS in those days, plus some solid editing equipment."
Some of the local actors uncovered in the videos this week include Sharon Croxen, Tara Hamilton, Deanna Blake, Tania Joseph, Dani McQuade, Mike Ackerman, Crispin Earl, Fairon Moore, Karla Johnson, Tannis Reis, Craig Turner, Kelly Clydesdale, Kirk Fong, Olivia Armich, Jesse Knutson, Rob Clarke, Melanie Malonie, Shawn Dupuis, Darryl Johnson, Eugene Vallee, Becky Fowler, Nick Vanderest, Mandy Parmar, Baldeesh Sandhu, Jamie Riddalls, Brent McMillen, Pat Cannon, Deanna Blake, Jesse Knutson, Dawn Hayhurst and Rhys Grieve and Tomm Dool. 
Teachers Lynn Pecknold, Barry Miller and Jim Seredick have also made cameo appearances.
As an added surprise to his friends in Port Alberni, Paul said he is planning a return trip to the Valley in the near future. 
"I'm definitely planning a trip back to Port Alberni in 2016 and near the top of my 'to do' list is scheduling a visit to the new Alberni District Secondary School," he said. "Maybe I'll even throw on my old Fire Marshall costume and have a good laugh with the students there now!"
https://www.youtube.com/watch?v=jD2AAQbGs_4&feature=youtu.be