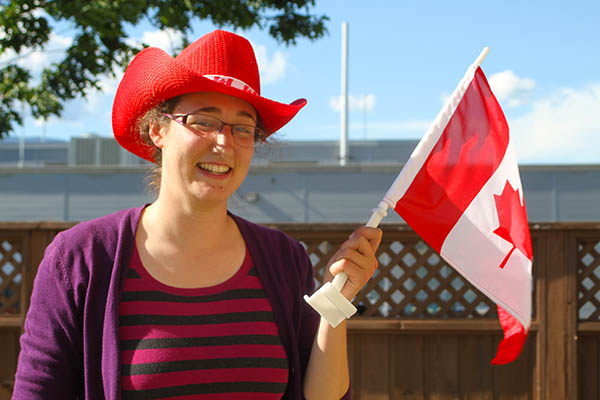 Sarah Thomas enjoys a good celebration, especially one that brings the community and nation together.
Sarah Thomas has had a busy year between work and volunteer commitments, as well as maintaining a healthy life balance with the majority of her travels being accomplished by bike. As president of the Port Alberni Folkfest Multicultural Society she is looking forward to celebrating Canada's birthday with the community today.
When she heard rumours of the potential cancellation of the Canada Day Parade three years ago, Sarah stepped in to help on the newly formed committee. Her role then was as parade marshal and she since volunteered to head the Folkfest committee.
"I always looked forward to going to the parade as a child and I wanted to see it continue," Sarah said.
When she moved back to Port Alberni that year after completing her community and regional planning degree at UBC, it was the stepping stone of her community involvement.
"Canada Day is important for the community to celebrate our multicultural traditions in the Valley," she said.
From there, her roles within town snowballed. As an advocate for environmental issues, she works with the Watershed Forest Alliance to help bring key players together to help ensure sustainable watershed management.
"We need to raise awareness of the importance of the watershed for our health," she said.
On the same note, Sarah also chairs the Air Quality Council to help protect against a broader range of air pollution in the region.
Recently Sarah wrapped up a successful Bike to Work week in the Valley, which had 142 cyclists registered and sixty of those attended the barbeque at Victoria Quay on the final day.
"Cycling is important for many reasons, not least being the ability to minimize greenhouse gas emissions," she said. "It's also fun and good for community and economic development. It gets people out on the street engaging in conversation."
Many of those familiar faces will be engaging with each other and spectators in today's Canada Day Parade. The 39th annual parade kicks off at 10 a.m. from the corner of Burde Street and 10th Avenue and runs down 10th to Hollywood Street. From there, the committee invites everyone to the multicultural celebration at Glenwood Center. There will be ethnic food booths, entertainment and free cake and watermelon. There will also be plenty of activities to keep the kids busy.
If anyone wants to get involved to help continue an important tradition in the Alberni Valley, planning will be underway later this year for the big one next year…2017 marks not only the 40th annual event, but Canada's 150th birthday. The Folkfest AGM is set for November 14 and more information can be found at the Facebook page.