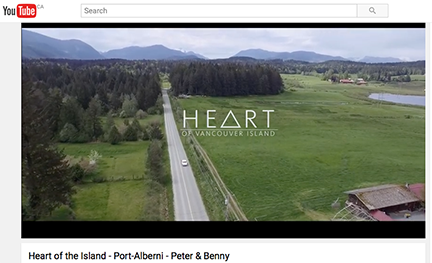 December 23, 2016 - 9:32am
Have you come across series of videos capturing the lives and times of some Port Alberni residents lately? A Vancouver-based filmmaker recently launched his project aimed at showing the positive side of the Alberni Valley.
Thomas Buchan was given the opportunity through the Telus Optik Local program to capture his ideas on film through eight short videos shot in Port Alberni. The company's interactive project is a means of investing in and creating awareness of local stories within the province and throughout Canada.
Originally from Comox, Thomas said he has a passion for meeting people and sharing their stories, so to take part in the project was the perfect chance to do what he loves and add to his portfolio. He is also a friend of Ben West, founder of Heart of Vancouver Island, so the pieces naturally fell together.
"We have worked on documentaries together and he said there are stories to tell in Port Alberni," Thomas said. "I submitted eight story ideas and was successful. Ben pointed me in the right direction and I came to Port Alberni to investigate."
Of the eight original storylines, he used two, but his further research led to other possibilities. The final selection resulted in videos featuring Aaron Colyn, Eric Plummer, Alicia La Rue, Tyrone Marshall, Harlan Wright, Dan Savard and Bouchra Zouhou of Swept Away Inn, Peter Sevigny and Ben Veen Camp and the Syrian Refugee Initiative.
"When I came, I met people who understand the town and have seen it change," Thomas said. "It is obviously a town people are passionate about and there are hot topics being talked about."
He said that through their willingness to share their stories, he hopes to project an image of what Port Alberni really is: the Heart of Vancouver Island with a lot of potential.
"I want people to see the town for what it is," he said. "It is a beautiful place with great people. When I touched base with Eric, he was open to the story idea. Then I heard about the Syrian refugee group and that was a great story."
When he met Aaron Colyn, Thomas said he was inspired by the launch of a new business unique to Port Alberni.
"I heard about (Twin City Brewing) and that Aaron was doubling down on his gamble," Thomas said. "I wanted to connect and create a story on his endeavour. I got to sample his beer and I know it will be a success."
All of the stories can be viewed on YouTube at this link.