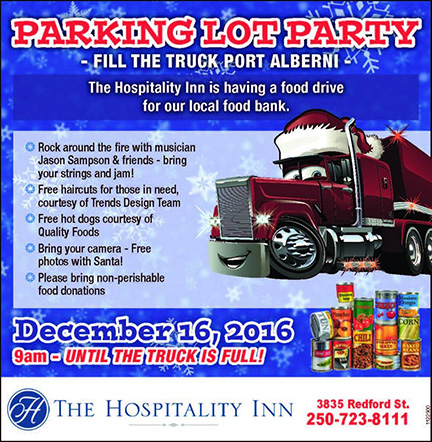 December 16, 2016 - 9:38am
After the team at Trends Design Team held a free haircutting event last Spring for those in need, they knew it was something that would become a regular opportunity. With Christmas just around the corner, they found such an opportunity and have paired up with the Hospitality Inn to take part in the hotel's Parking Lot Party today.  
All day, or until the Salvation Army truck is full of non-perishable food donations, there will be a lot going on for the community to help lend a hand.
"We were looking for somewhere to do free cuts this year and the Hospitality Inn heard, so we jointly decided to do it together," said Rosanne Doiron, owner of Trends. "Last year was fantastic. We did 60 free cuts (at the salon) and another 40 in Ucluelet the following weekend."
This year, all staff will be providing as many haircuts within a two-hour stretch from noon to 2pm. The salon will be closed at that time for the employees to volunteer their time.
"It's not only that it feels good to give back," Rosanne said. "Knowing that not everyone can afford to get a haircut, we realized how much of a difference it can make. It is really uplifting to them and is a treat for them to have it done."
Rosanne was inspired by friends in Vancouver who do this every Sunday on East Hastings in Vancouver.
"We really saw the difference it makes," Rosanne said.
Last Spring, a group of colleagues from The Street Thug Barbers came to Port Alberni and the west coast to help out, and help it did. One hundred people who could not afford a haircut were provided with a new, fresh look, and also a boost of confidence.
"It really helps all around," Rosanne said. "First of all, a lot of people do not have anyone to talk to on a regular basis so to have someone to sit down and talk to is great and they walk away feeling amazing that their hair is done. It is heartwarming."
No one will be turned away but the cuts will only take place from 12:00 p.m. to 2 p.m. under the big tent and warm fire.
For rest of the day, the community is being asked to dig deep by providing some food donations to be used by the Salvation Army. Local musician, Jason Sampson will be there providing tunes and welcomes others to come jam. There will be free hot dogs and photos with Santa, so bring your camera. The party runs until the Salvation Army truck is full of food!