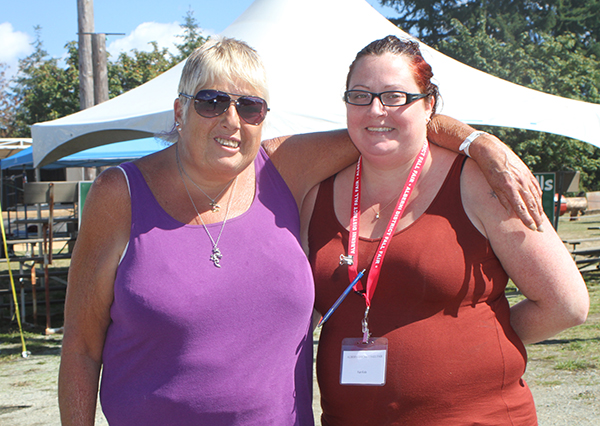 Beth Fossen and her daughter Bobbie have been long-time volunteers and help make the Fall Fair a success every year.
September 9, 2016 - 7:46am
Like many long-time volunteers of the Fall Fair, it is a family affair for Beth Fossen. She started helping out on the fair grounds in 1987 and hasn't looked back since. Over that time, Beth has worked in the Kinette food booth, built sheep pens and was the parade marshall for ten years. Now she is coordinating the Home and Business Show and is happy with its growing success.
"This year it is the fullest its been in five years," Beth said. "There are only two empty spots inside and even though there are only ten outside spots, I've sold fifteen. It's fun getting people in where there is no space!"
Beth's successful marketing strategy helped fill up the home and business show. She offered a rebate to any vendor who recruited a new vendor.
"For 26 hours of work, they are getting exposure to 18,000 to 22,000 people," she said.
The commercial building, where there are local and out-of-town vendors, is only one aspect of the fair. Beth remembers her early days helping out when her kids were younger.
"The kids loved it," she said. "They were raised as "Fair kids". They would all run in packs and all the volunteers would have about 20 kids for the weekend."
Beth said the sense of camaraderie and family is in her blood.
"I tried to quit once but I came back," she said. "Every year I say it will be my last but I keep coming back."
Beth's daughter, Bobbie, is one of those Fair kids and returned home from the lower mainland this week to help out.
"When I was a kid I loved the rides and the parade," she said. "I was the pooper scooper for awhile and then helped with judging."
From there, Bobbie was integral in setting up the Science World displays.
"I love the sense of community," Bobbie said. "I missed it so much last year, so I volunteered with Pride in New Westminster. This year I came back to set up all week."
For Beth, the Fall Fair is a year-round commitment. In February she starts getting contracts prepared to send out and makes any changes to the floor plan of the Home and Business Show. She said there are always new things that creep up that need to be dealt with.
In the Spring, Beth touches base with the vendors from other communities.
"They really like us and keep coming back year after year," she said. "They recommend us to several other people. This year there are six new out-of-town vendors."
Beth's other half, Butch Marocchi, is also part of the fair family and has been for almost fifty years.
"He has no official job but is busier this year than as a director," Beth said. "We can always find something for people to do."
If you're checking out the fair this weekend and like what you see, consider volunteering for one of the many positions to make next year's event just as successful. All the information can be found on the Facebook page.