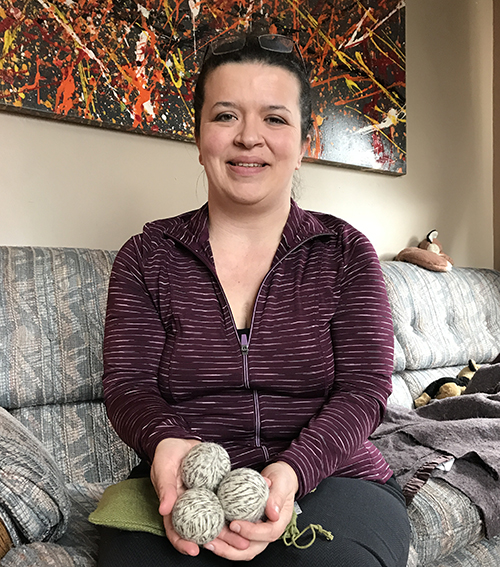 Jennifer Saunders shows her hand-made dryer balls, which last up to 5 years.
Jennifer Saunders and her husband, John, recently moved to Port Alberni with their two young children. Both are pursuing their entrepreneurial spirits and have so far found the Valley a good place to do both that and raise their family.
Growing up in Nanaimo, Jennifer was raised among a long line of entrepreneurs. She was also influenced by creative parents, who helped develop her flair for brainstorming ideas, including inventions and upcycling vintage furniture. After she graduated from Wellington Secondary School in 2000, she moved to Vancouver for a couple of years of employment. At the time, her father was close to retirement and was working at Lafarge Concrete when it closed. He took a transfer to the mainland and it was a chance for Jennifer to live the big city life.
"I'm an Island girl, though," Jennifer said. "I like Island time. Vancouver was a good experience, but it was too fast-paced."
When she and John, a self-employed landscaper, married in 2007, they worked together. She knew she always wanted to have children and wanted to focus her time on being there for them as a stay-at-home mom. Between home-schooling a 7-year old daughter and 5-year old son, the lifestyle keeps the family close.
"I always wanted to know and see my kids and I feel blessed to be able to do that," Jennifer said. "I know a lot of people don't have that choice. I wanted to be able to make the choice of a career or staying at home and I have a real appreciation for the moms who manage to do both."
Last summer, the two sold their home in Nanaimo and invested in a family home in town.
"We loved the Valley and have friends here," Jennifer said. "I love the small town feel. It's quiet, peaceful and family-oriented. We have found a whole new life in Port Alberni. There is so much to do with my kids and has a very supportive home-schooling community. Whether we're at the museum or the Quay, there is always something to do no matter what the weather is like."
As soon as she was settled in her new home, Jennifer got to work on her business idea that started five years ago. She was online and came across dryer balls; wool-based balls that help cut drying time for laundry, replace synthetic dryer sheets, reduce static, and save energy costs. She made a few and started selling them at markets, but had to break through the skepticism she was running into among the public. She said people were not sure they would work as well as they do. Now that the concept is more well-known, Jennifer has been trying to keep up with demand. To help with marketing efforts, she just finished a successful Kickstarter campaign and will be launching her product on April 8 at the Cherry Creek Farmers Market.
"I knew they worked amazing and needed to spread the word," Jennifer said. "The Kickstarter campaign blew my mind. I didn't expect it to take off but now I have been selling them across Canada and to the UK and United States."
She has tested the balls in all types of dryers, including front and top-loaders and older and new models and said they work well in all. She can also infuse the balls with essential oil for scent.
As avid gardeners, both Jennifer and John hope to expand their product line to include other homey and natural items like plant starters, meat rubs, and herb blends.
Check out her Facebook pages for more information: The Sleepy Gecko Studio and The Hammer 'n Tack.