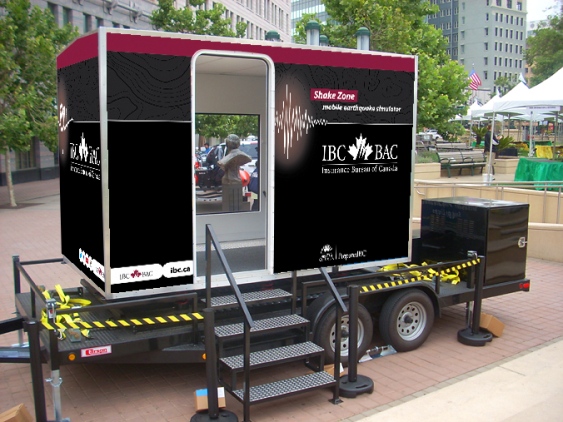 The Shake Zone will allow residents to experience a simulated 8.0-magnitude earthquake today at Echo Centre.
We don't know when or if the Big One will hit Vancouver Island, but experts believe it is "about time" and people living on the West Coast should be prepared.
Over the years, a series of small quakes have been shaking the tectonic plate on which North America sits. Part of the plates have become lodged and the stress accumulated over the years bring the potential for a "megathrust" to strike. It was in 1700 that such a quake, the estimated 9.2-magnitude Cascadia earthquake, happened, and in January 2016, the Pacific Tsunami Warning Center produced a model animation of what the Pacific Ocean would have looked like.
Since quakes of this magnitude tend to occur on the Cascadia Subduction Zone every 300-600 years, we must be prepared.
Those who have experienced an earthquake liken it to an initial jolt and then a rocking feeling of the ground. Residents of the Valley are invited this afternoon and evening to have a first-hand experience of a simulated 8.0-magnitude shaker. The Shake Zone will be set up in the parking lot of Echo Centre for free demonstrations. The Shake Zone seats eight and lasts about 25 seconds, giving riders a taste of one g of motion – the g-force that can come with a 6.0 – 9.0 magnitude earthquake. Firefighters and emergency personal will be available with information on how to prepare for and recover from disasters.
The event is in conjunction with a series of awareness opportunities leading up the Exercise Coastal Response.
The first was a public information session on May 17 when Mayor Mike Ruttan shared his personal experience from the 1964 tsunami and a call for volunteers was requested.
From June 7-10, Port Alberni will be the host to more than 70 search and rescue experts and volunteers taking part in a full-scale earthquake response exercise. It is the first conducted by the province to test its B.C. Earthquake Immediate Response Plan.
The Alberni-Clayoquot Regional District's CAO Russell Dyson said the public will not expect any disruptions during the event as most activities will take place out of public sight.
Volunteers to act as victims for the exercise are still needed. Anyone interested can email portalberni2016@gmail.com for details.
Dyson's advice for any natural disaster is to have a complete emergency kit and be prepared to survive on your own for a minimum of 72 hours. Stop by the Shake Zone from 1:30 to 7:30 pm to find out more.